Deutsche Bahn AG (DB), the German state-owned railway operator, has signed an agreement to sell Arriva Group, its European public transport subsidiary, to I Squared Capital, a leading global infrastructure investment manager.
The transaction, which is expected to complete in 2024, is part of DB's Strong Rail Group strategy to focus on growth in rail transport in Germany. It follows the sale of Arriva's non-core markets in Sweden, Portugal, Serbia, Denmark, and Poland in 2022.
Arriva Group in the UK currently runs the CrossCountry and Chiltern Railways franchises alongside the Grand Central operator and Arriva TrainCare rolling stock maintenance company.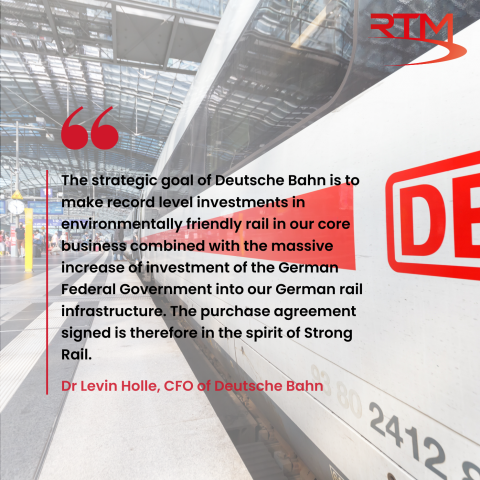 The sale comes as DB focus on its Strong Rail Group strategy, which outlines the groups plans to cut emissions and overhaul its fleet by 2030, which includes moving to electric-only trainsets. It plans to further reduce CO2 emissions by 10.5 million tonnes per year by shifting transport to the rails and increase the market share of rail in freight transport to 25% from the current 18%.
The target is to increase the volume of freight on the rails by 70% by 2030. This is equivalent to 13 million fewer lorry journeys on German roads, with lower emissions as a result.
I Squared has experience in sustainable infrastructure, including transport, logistics, energy, utilities, and digital infrastructure.
Gautam Bhandari, Global CIO and Managing Partner of I Squared, said: "Transport accounts for around one-fifth of global CO₂ emissions. Three-quarters of this is from road transport, and a greener public transport sector is critical to the shift to lower-carbon infrastructure.
"Arriva's strategy for net-zero operations and the decarbonisation of its fleet aligns with our strategy to develop and scale assets with technologies that accelerate the energy transition, as well as providing cleaner air in cities and towns by investing in green public transport.
"We are excited to work with Arriva and we will invest to support its future growth as a major European bus and rail operator."
Mike Cooper, CEO of Arriva Group, said: "We want to see a future where people choose to leave their car at home, a future with less traffic congestion and cleaner air. This transaction marks an exciting next stage for us, and will deliver significant benefits for our colleagues, our passengers and the many Passenger Transport Authorities we partner with across Europe, enabling us to play our role in delivering a better future.
"I Squared has an established track record of supporting companies which provide essential services, and of investing in the energy transition. We are delighted that they have committed to provide Arriva with long-term capital for investment in innovation across our services, our assets, and our people.
"We're confident that Arriva and I Squared together can play a vital role in delivering innovative and sustainable public transport offerings across Europe."
Photo Credit: iStock