Transport for Greater Manchester (TfGM) and Great British Railways Transition Team (GBRTT) have formally started work to deliver a more locally accountable and integrated rail network in Greater Manchester.
The partnership aims to establish the regions core ambition of a 'London-style' transport network which integrates rail, bus and Metrolink into a simple system.
One of the key elements of this ambition is the rolling out of the 'tap-in, tap-out' Pay As You Go (PAYG) technology. The installation of the system is currently in development between TfGM, GBRTT and the Department for Transport (DfT) with a contactless pilot on rail, which is due to be launched in 2025 for services between Stalybridge and Victoria and between Glossop and Piccadilly.
Rufus Boyd, Interim GBRTT lead director, said: "Our current railway system has lost focus on customers and doesn't align to the new model of political devolution.
"A future guiding mind for rail can tackle this by bringing different parties together so that decisions about train services are made at the most local level possible, by people who know what's best for Greater Manchester."
The wider aim for the partnership is to have fully integrated Bee Network, including rail, by 2030.
The new partnership will also look at how rail can be integrated further into the city's newly established Bee Network and will look at further funding whilst in the short-term exploring how the network features across the regions stations.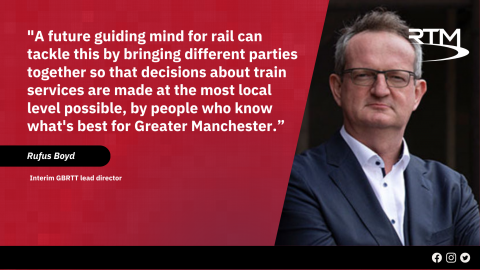 Vernon Everitt, transport commissioner for Greater Manchester, said: "The delivery of the first phase of bus franchising alongside the existing Metrolink tram network lays the ground for integrated public transport through Greater Manchester's Bee Network by January 2025. We then want to go further.
 "By setting up this partnership with GBRTT we will work together to integrate local rail into the Bee Network by 2030. This will provide customers and businesses with access to joined-up journeys with simple fares and ticketing and high-quality real-time information and will transform transport for people across our growing city-region."
The collaboration comes after the Trailblazer Deeper Devolution Deal was agreed by Greater Manchester and Government in March of this year which aims to bring the railway and city-region closer together.
Photo Credit: iStock