How the rail industry can harness modern technology, including hybrid-cloud infrastructure, to improve security operations and save costs. 
Great Britain's railway network is the oldest in the world, comprising of 2,570 stations and an estimated 75,000 security cameras, all managed by Network Rail. Virtually every one of those stations is currently responsible for managing, maintaining, and updating its own systems. Yet if it were designed today, with all the advances in technology that have taken place, it is likely things would look very different. We'd be looking at a 'Security as a Service' model that leverages centralised monitoring, video analytics and the cloud.
Unification
When stations, service facilities and operation headquarters first adopted technologies such as video surveillance, access control and intruder prevention, they were typically deployed on a standalone basis, to meet a specific need. Over time this had led operators to find themselves with a range of disparate, disconnected physical security products. Information is siloed and individual management of each of these systems is a drain on resources as budgets shrink and the threat landscape expands.
In this situation, many look to integration. However, it's better to start with unification if the goal is to enhance efficiency, improve collaboration and arrive at a single version of the truth. The two approaches may sound similar and can even be used alongside each other to good effect. However, there is a subtle but crucial difference. A unified system is designed and built as one system to address a broad range of security tasks, to enable the free flow of data and to scale seamlessly as new technologies are added. Meanwhile, an integrated system continues to be made up of many independent solutions from multiple vendors. It comprises many independent connections and quickly becomes difficult to use when one of those connections break.
Collaborative security technology is breaking through these siloes in ways that are improving visibility and communication across all corners of operations, and Genetec Security Center has already established itself as the industry standard of unification technology. Security Center gives users a comprehensive overview of the rail network in real time, combining data feeds for faster response times and using data to predict threats before an incident occurs.
An example of what modern rail security operations looks like is Sydney Trains. Its separate security components were a barrier to real-time video coverage, a particular risk to the stations with a high volume of passengers, as well as regional, un-staffed stations. Genetec Security Center gave their team a unified view of its systems for monitoring, management and reporting, democratising access to valuable insights. Visibility across the network improved and staff reported that the efficiency benefits to their day-to-day activities worked to overcome issues contributing to delays.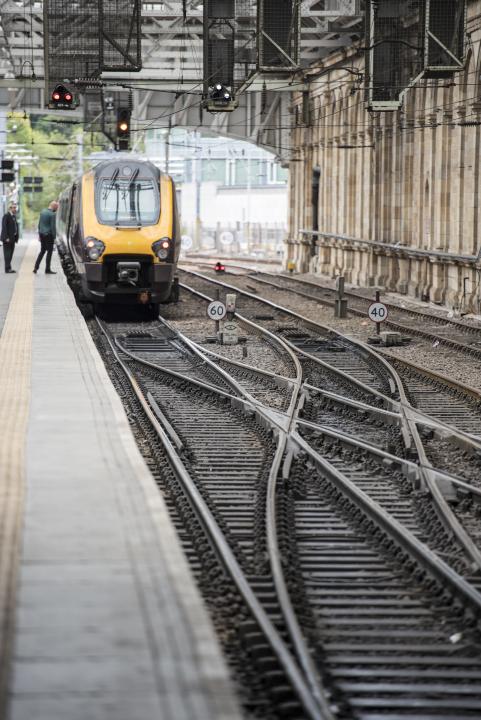 Harnessing the cloud
Unavailable to a previous generation of rail security operators, hybrid cloud infrastructure has now matured to the point that it is the logical foundation for the next generation of rail security and operations. This delivery model offers significant scope for efficiency savings compared to the operational and maintenance costs of running thousands of local on-premises systems.
Alongside the unified view that can be seen in a control hub, data streams can be accessed on the go, meaning that real-time insights don't end when the security team leaves HQ to respond to an incident. It additionally improves collaboration with other stakeholders in the rail network. For example, footage can easily be accessed, redacted and shared with third parties such as the police from a central control room. With no need to visit the station or rely on physical media such as USB drives and DVDs. Video analytics can also be adopted as a means of delivering additional possibilities for security, operations and intelligence. From automating the detection of trespassers through to gaining a better understanding of how different parts of the station are being used.
Using the cloud also provides a solution to problems elsewhere in the daily work of the security team. The compounding effect of technological advances and policies that require longer retention times for video can put major strain on the security budget. Additional servers may be required to manage a modern rail security operation, especially with a network that covers a huge geographical area. Instead, cloud storage eliminates the cost of maintaining servers. A hybrid-cloud model even allows for the transition period when the budget dictates that a cloud migration should happen gradually. For example, allowing an operator to maximise the ROI of existing servers in the short term, safe in the knowledge they won't need to be replaced when they reach end of life.
Cybersecurity
The convergence of physical and cybersecurity is another issue that should make the move to a Security as a Service model a strategic priority. It's a fact that a secure railway cannot be achieved without the large-scale rollout of security sensors, such as security cameras, access control readers and intrusion detection hardware. Yet, if inappropriately managed, every one of these devices can be exploited to carry out a cyber-attack, denial of service or data breach.
Legacy systems are generally ill-prepared to support operators in dealing with the modern threat landscape. That's particularly true of integrated that need to be independently updated and maintained. On the other hand, unification and the cloud can automate the processes of conducting regular automated health checks, alerting the IT team when software updates are needed and enabling them to be pushed out across the network from a centralised source.
The aims of railway security remain the same as ever: protect passengers, staff and vehicles to ensure an efficient, reliable service. What has changed is the technology that is available to make that happen. With a unified hybrid-cloud security platform, rail operators put themselves in the best place to monitor, analyse and respond.