This week, the Rail Safety and Standards Board announced that the rail industry has agreed to a new framework that will see sustainability challenges met.
Through the Sustainable Rail Blueprint, the Great British Rail industry will be supported to further progress on sustainability goals, with a focus on how net zero plans impact the environment, local communities, and wider society. The need for a strategy that encompassed the entire industry was highlighted by the Department for Transport in 2020, with the department funding the development of the Blueprint.
As it adapts to alterations in demands for passenger and freight following the pandemic, debate and decisions will be driven by the Blueprint. Currently, rail travel is the most sustainable mode of long-distance transport as it remains responsible for only 1.4% of the nation's transport carbon emissions, with the strategy now outlining policy milestones and potential initiatives that can help to further improve sustainability whilst also managing financial pressures.
For the first time, it will be established exactly what needs to be achieved by the rail industry, how goals can be achieved, and who should contribute on the following:
Eleven sustainable rail topics covering emissions, natural environment, and social sustainability

Six common solutions that have been identified as the primary enablers of a sustainable rail industry

The role that is played by train operators, infrastructure managers, rolling stock owners, the supply chain, the government, and regulators as they work to deliver sustainable rail.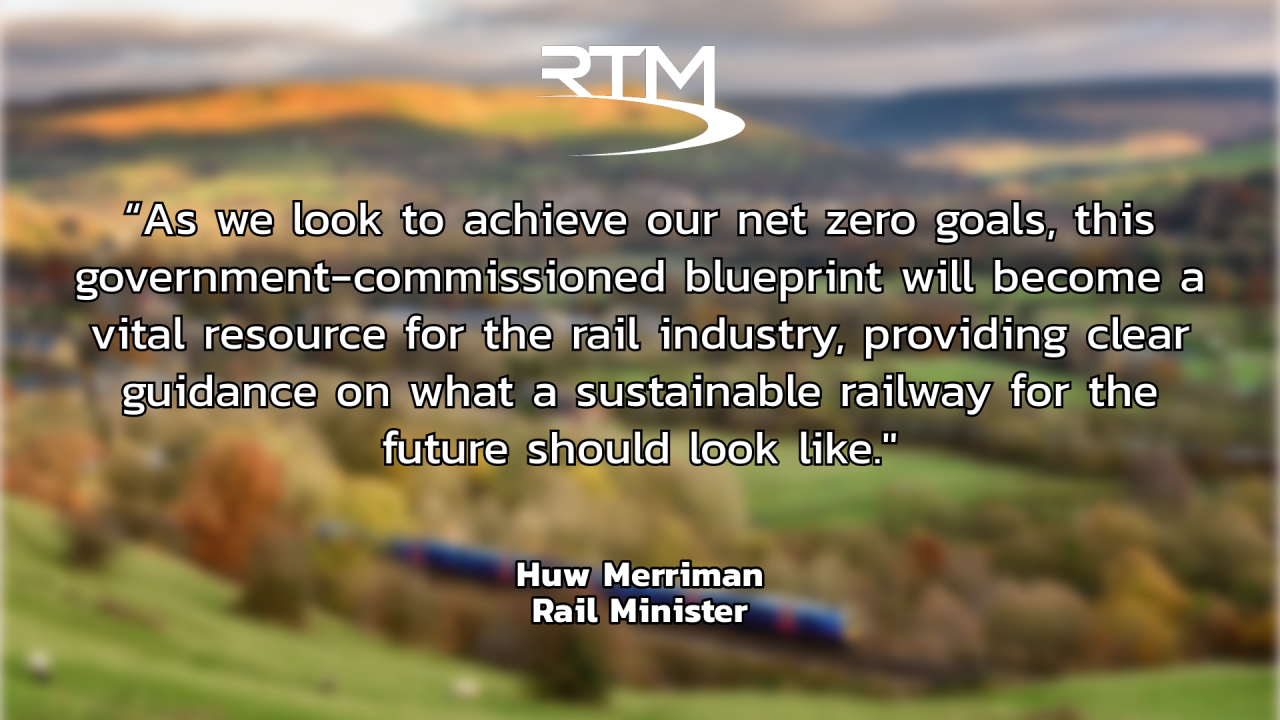 Rail Minister Huw Merriman said:
"As we look to achieve our net zero goals, this government-commissioned blueprint will become a vital resource for the rail industry, providing clear guidance on what a sustainable railway for the future should look like.
"While significant progress has already been made in recent years, this report will further support the industry in reducing its environmental impact, using innovative techniques to make our rail network even greener, and ensuring the environment is at the heart of our decision-making."
Work has already begun to implement the strategy, with companies bringing their existing sustainability projects into line with the aims that have been set out. Several programmes are also being led by the RSSB, with these including a new data platform that will allow for the measuring and monitoring of sustainability performance, and a learning hub to assist with the development of industry knowledge.
George Davies, Director of Sustainable Development at the Rail Safety and Standards Board, added:
"RSSB has led the development of the Sustainable Rail Blueprint, co-creating it with the rail industry, for the rail industry. It's a practical resource to shape thinking and guide action across environmental and social issues, whilst recognising the pressures our industry is under currently.
"The Sustainable Rail Blueprint sets out what needs addressing, how it can be worked on and who needs to be involved. Reflecting legislation and policy along with what society expects, the Blueprint brings consistency to realise an even more sustainable railway."
Image credit: iStock