The transport committee has written to Transport Secretary, Mark Harper demanding a long-term and concise rail electrification strategy.
The Government released its Decarbonisation Plan in 2021 which prompted a response in the shape of the Fuelling the Future report which provided information, advice and recommendations for decarbonisation of multiple transport modes – Including rail.
The committee suggested that a flexible multi-modal approach should be implemented where full electrification was not possible. This included hydrogen, battery-powered and bi-mode traction trains which would help the Department for Transport to reach its target of a fully net zero railway by 2050.
The committee currently estimates that 38% of the country's network is electrified.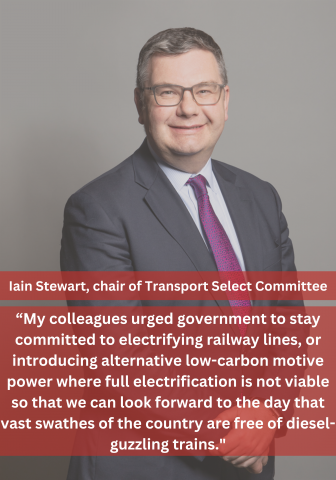 Iain Stewart, transport select committee chair said: "We want to see a long-term strategy with costings, milestones and a credible delivery plan. The Government's response indicates there is still some way to go before they will be ready to put pen to paper on a detailed plan."
In its response to the committee's report, the DfT recognised that electrification would play a part and highlighted its commitment to Net Zero 2050. In its response, it said:
"There is a pipeline of schemes underway across the country where sustained work is carried out. The Integrated Rail Plan (IRP) outlines the biggest ever single government investment in Britain's rail network, setting out £96bn investment into the railways of the North and Midlands and includes electrification of the Transpennine Route and the Midland Main Line.
"Alternative technologies such as hydrogen, battery and bi-modes will also play a part. The Government will deploy the most suitable technology for each rail line considering technology capability and value for money."
Image Credit: IStock Jaroslaw Kilian
Want to know more about the opportunities to become a key supplier to the UK rail industry? Attend TransCityRail and access an exclusive marketplace of buyers from Network Rail, HS2, Train Operators, Major Contractors, and all other tiers of the supply chain. For more information and to secure your place click here.