Network Rail is working with the Eden Rivers Trust, Environment Agency, Natural England and landowners to return the River Leith near Thrimby back to its natural course and make the West Coast main line more reliable for passengers and freight.
Historically, the river had to be straightened but this doesn't provide good conditions for wildlife to flourish or help protect the surrounding land or buildings from flooding. It also put the railway it bordered at risk from erosion.
The River Thrimby flows at the foot of the embankment of Europe's busiest mixed-used passenger and freight railway lines.
Forty-six passenger trains and seven freight trains go past every 24 hours, carrying near 18,5000 tonnes of medical supplies, bananas, pasta, loo roll and other essentials over the England-Scotland border. This is an essential service that needs to run all year round without interruption.
Work has commenced to cut a new 1km meandering river channel that flows away from the railway line, making the river 33% longer than the previously straightened river.
Rory Kingdon, Senior Sponsor at Network Rail, said: "Restoring the river at Thrimby to its natural course not only benefits the environment, but it also protects the track from flooding, making the West Coast main line more reliable for passengers and freight.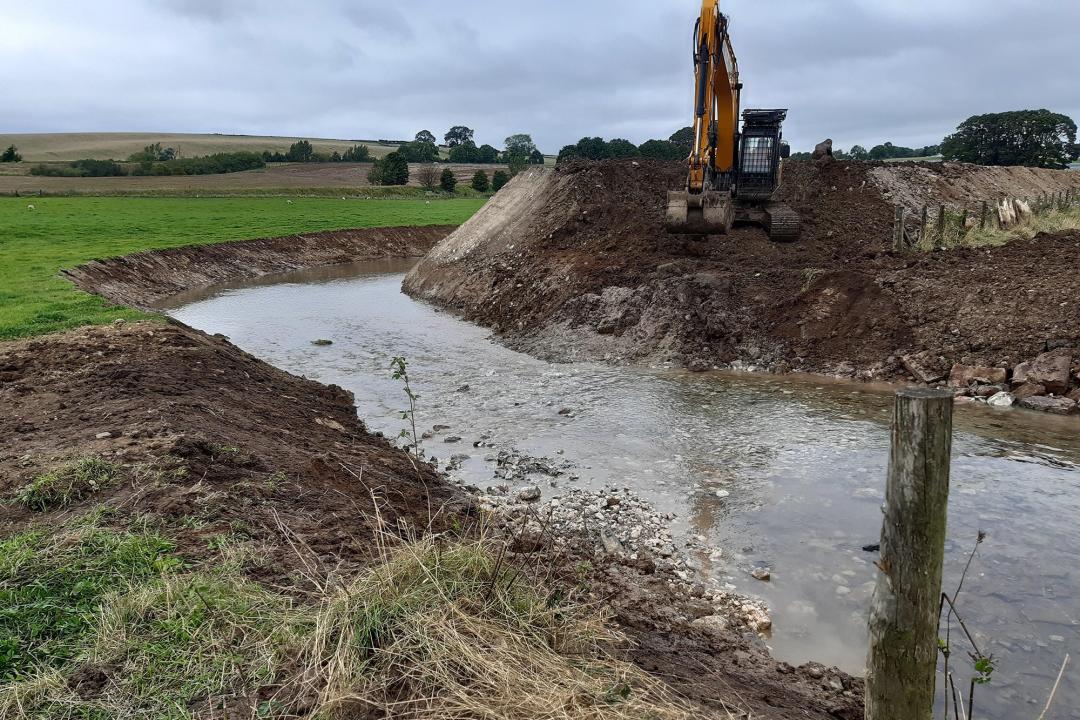 "Pooling resources with Eden Rivers Trust and the Environment Agency to make the railway more resilient to climate change is a win-win for wildlife, passengers and freight users."
Lev Dahl, River Restoration Manager from Eden Rivers Trust, said: "This is a really exciting project that is going to provide a huge range of benefits, increasing habitat, protecting the railway and reducing flood risk. As the project matures, it will also provide homes for a range of birds and mammal species. 
"All of these benefits are set within a working sheep and beef farm and provides a great example of how food production, nature conservation and the transport sector can work hand in hand."
Olly Southgate, Cumbria River Restoration Programme Manager at the Environment Agency, said: "The Thrimby River Restoration project is great example of how we can make a real difference on a large scale for both people and the environment by working in partnership with other organisations.
"Delivering river restoration work can provide a vast array of benefits not only for ecology, fish and biodiversity but also for contributing to natural flood management. This makes a real difference to people's lives and to communities as a whole. The Environment Agency in the North West is pleased to be involved in this project and looks forward to its completion and the benefits this will bring."