The Cumbrian Coast line is set to receive major renovation works to a historic footbridge at the Harrington station railway crossing.
A sizeable investment of £450,000 is coming from Network Rail as they seek to carefully restore the Victorian footbridge, maintaining the picturesque route between Workington and Whitehaven. These works will involve strengthening of the stairs and overbridge, accompanied by grit blasting to the steel elements of the structure in anticipation of repainting in its heritage colours.
Reece Holland, scheme project manager at Network Rail, said:
"Harrington station's 19th century footbridge is a key historic feature of the station, and this major investment will ensure it remains safe and reliable for passengers for decades to come.
"Whenever we carry out work like this, we take great care to make sure it's done sensitively and is in keeping with the railway's heritage. This wouldn't have been possible without the close partnership with Community Rail Cumbria to make sure that the paint work is in-keeping with the original design."
Warren Birch, community rail partnership officer from Community Rail Cumbria, said:
"Community Rail Cumbria welcomes the recent investment to Harrington railway station and the benefits this will bring to rail passengers and local residents; these ongoing improvements are crucial to the Cumbrian Coast line and the towns and villages it serves."
These works will futureproof the structure to ensure the community are able to enjoy their infrastructural heritage. Though there has been regular maintenance since its inception, the 19th century railway crossing is now in need of complete restoration, leading to the structure being airlifted to Taziker's factory in St Helens last weekend.
The repairs are now scheduled to be conducted over the coming 12 weeks, with passengers being able to use a temporary footbridge to access both platforms while the work takes place, meaning there will be no disruptions to trains along the route throughout duration of the scheme.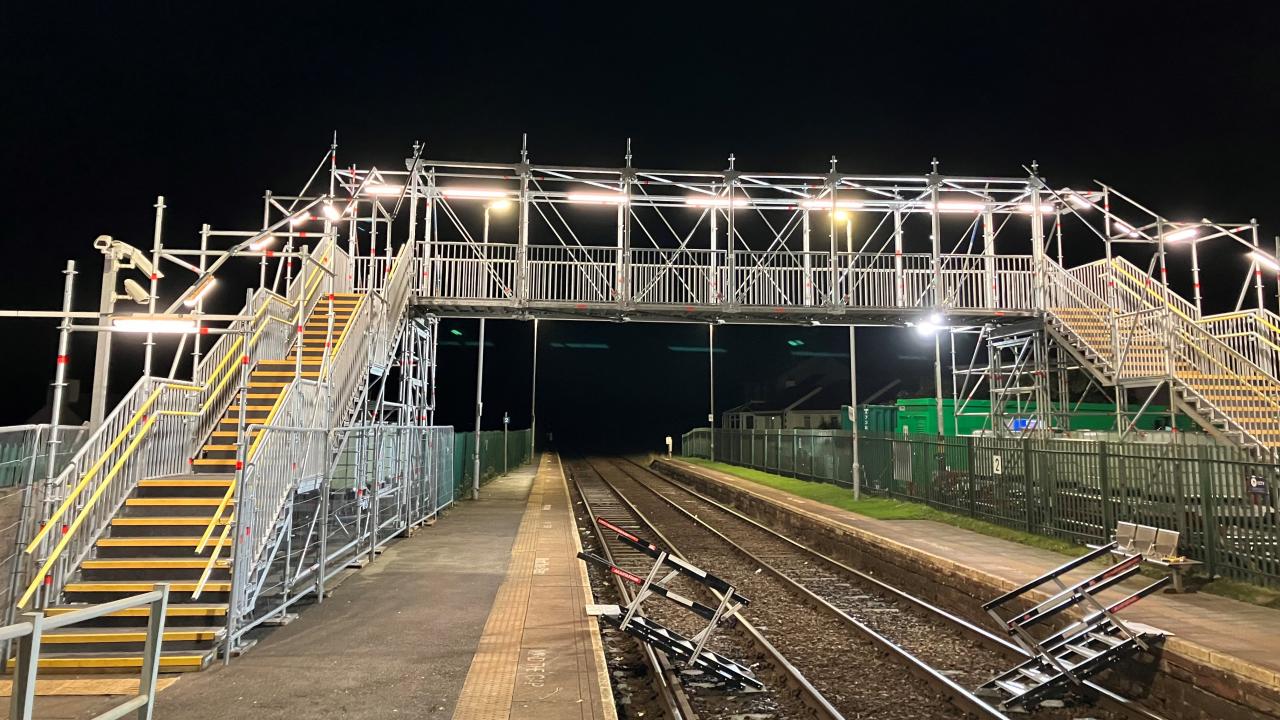 Mark Jenkinson, MP for Workington, said:
 "I welcome this £450,000 investment to refurbish an important piece of Harrington's railway heritage for future generations to enjoy.
"The work complements projects underway across my constituency to sensitively conserve our historic landmarks, including multi-million-pound investments in Maryport via the High Street Heritage Action Zone (HAZ) and the Future High Street Funds.
"I have always been a staunch defender of our heritage from the Duffield Beacon to Christ Church in Maryport. The need to save Grade I listed Workington Hall was one of the main reasons why I decided to go into politics in the first place."
The footbridge will be put back in pride of place in January 2023 for locals and tourists alike to enjoy.
Want to know more about the opportunities to become a key supplier to the UK rail industry? Attend TransCityRail and access an exclusive marketplace of buyers from Network Rail, HS2, Train Operators, Major Contractors, and all other tiers of the supply chain. For more information and to secure your place click here.