Rail passengers have been thanked after major work to connect a new rail to road freight interchange with the West Coast main line was completed.
The work, which took nine days, saw new track, points and signalling systems installed to connect the existing railway to the new sidings at the under-construction freight facility at SEGRO logistics park in Northampton.
Once complete, the facility will provide 5 million square ft of warehouse space and employ up to 7,000 people.
The freight interchange has been in development since 2021 with six plots of warehousing and office space planned. It forms a key part of the UK's drive for modal shift to rail freight. DP World recently announced a 'Modal Shift Programme', offering financial incentives designed to attract companies to switching to rail freight to shift goods across the country.
The new railway connection will be used by freight company Maritime to transport thousands of tonnes of goods between rail and road every day.
Carbon footprint reduced
Once operational, four freight trains will serve the new Northampton interchange each day, with the capacity for more in future.
Each freight train takes up to 76 heavy goods vehicles off the road, making it a much greener way to transport economically important goods around the country.
James Dean, Network Rail's West Coast South route director, said: "Connecting this new freight interchange to the mainline railway network is a huge milestone and shows our commitment to working with freight operators to moving more goods in the most environmentally friendly way possible – by rail.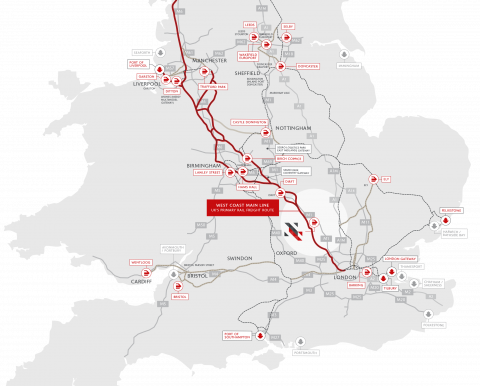 "We know this work has meant longer journeys for passengers over the last nine days, so I'd like to thank everyone impacted for bearing with us while we carried out this important work which will benefit both the environment and the economy in future."
Barry Milsom, Avanti West Coast executive director of operations and safety, said: "We would like to thank customers for their patience over the last nine days while Network Rail carried out this important work, which will boost sustainable transport opportunities for freight on the West Coast Main Line."
John Williams, Maritime executive chairman, said: "These developments, at SEGRO Logistics Park Northampton are important, long-term commitments for Maritime to reduce our environmental footprint by developing a network of low carbon, strategic freight connections across the country to promote modal shift from road to rail for container transport and for domestic distribution, with local distribution by electric-powered trucks.
"Building and operating modern, inland rail freight interchanges, supported by the largest dedicated fleet of vehicles in the country, enables us to deliver terminal to terminal rail solutions and highly efficient rail to door and door to rail services for our customers who are looking for long term, supply chain protection and sustainable transport solutions."
Photo Credit: Network Rail