Costain, the infrastructure solutions company has been selected by the Department for Transport (DfT) as one of the key suppliers on the department's latest Specialist Technical and Commercial Advice for Rail and Other Transport Modes (STAR Three) Framework. The framework, worth up to £600m in total, will run over an initial three-year period with an option to extend by a further year.
The aim of the framework agreement is to provide specialist consultancy advice to the DfT as it aims to deliver on infrastructure projects across road and rail, including specifically decarbonisation, reliability, safety, levelling up and aging infrastructure.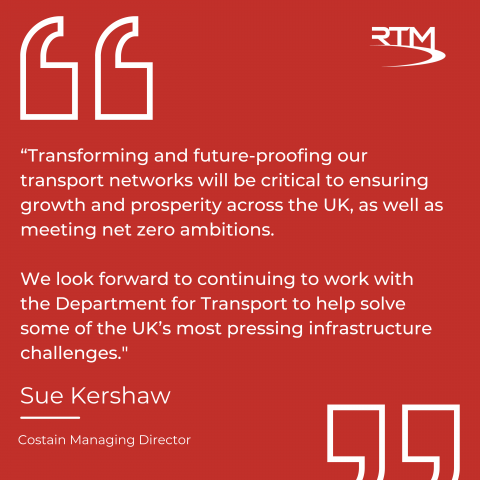 The role will work alongside lead partner GHD which will provide technical advisory and professional services.
The partnership it is hoped will build upon the success of the previous framework STARTwo between the three companies.
Sue Kershaw, managing director of transportation at Costain, said:  "Transforming and future-proofing our transport networks will be critical to ensuring growth and prosperity across the UK, as well as meeting net zero ambitions. We look forward to continuing to work with the Department for Transport to help solve some of the UK's most pressing infrastructure challenges.
"The framework will also allow us to collaborate with key industry partners, like GHD, to harness skills, innovation and knowledge to drive a more productive and sustainable infrastructure network."
The partnership builds upon the success of DfT's previous framework, STARTwo, and continues a longstanding and collaborative relationship between the DfT, Costain and GHD and will be supported the rail and transport industry supply chain.
This follows from Costain's commitment to spending 38% of spend on small and medium sized businesses. That commitment is close to matching DfT's target of 40% SME supply chain spend.
Jonathan Edwards, GHD's market development leader EMEA, comments: "GHD is committed to addressing the world's biggest challenges in the areas of water, energy and communities. Within transport we are focused on being the leading advisors and technical authorities in the movement of people and goods and on projects that improve connectivity.
"The STARThree Framework of the DfT is set to enable improved access to specialist technical and commercial advisory support nationally. Our selection, in partnership with Costain, highlights our ongoing commitment to the DfT and presents a remarkable opportunity for us to contribute to transforming the market and connecting and supporting communities for generations to come."
Image: Istock