Brightline, the private passenger rail company serving South Florida, and its partner Wi-Tronix have been awarded a $1.6 million grant from the Federal Railroad Administration (FRA) to develop an AI-powered rail safety system. The system will use artificial intelligence to collect and analyse real-time data on trespassing and other unsafe behaviour along the Brightline/FEC Railway corridor.
The grant was awarded through the FRA's Consolidated Rail Infrastructure and Safety Improvements (CRISI) program. The CRISI program provides funding for projects that improve the safety and efficiency of the nation's rail system.
The AI-powered rail safety system will be developed by Wi-Tronix, a leading provider of AI-enabled cameras and onboard platforms for the rail industry. The system will be rolled out across 21 of Brightline's locomotives will use cameras mounted on to the trains to capture images and video footage of the tracks and surrounding areas.
The AI model will then analyse the footage to identify trespassing and other unsafe behaviour.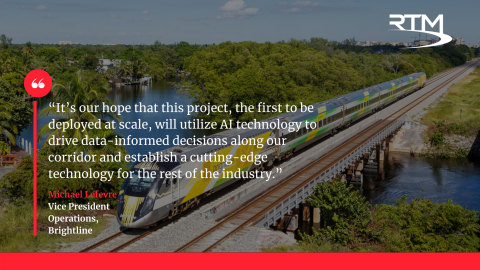 The data collected by the system will be used to guide future decisions related to infrastructure, enforcement, and education. Brightline hope to use the data to identify areas where additional fencing or signage is needed, or to target law enforcement patrols. Over two million thumbnail images and 135,000 hours of video footage are estimated to be captured every day, allowing the company to continuously improve its automated software solution and AI infrastructure.
"Brightline's proposed project is a major win for safety in our industry and the communities we serve," said Chad Jasmin, Wi-Tronix's vice president of sales and customer experience.
"The ability to collect, identify, and mitigate trespasser behaviour through the use of AI is a catalyst for change, and it's exciting to see the FRA and DOT acknowledge this. New possibilities for safety are on the horizon, not just for Florida, but for our nation.", they added.
Michael Lefevre, Brightline's vice president of operations said: "It's our hope that this project, the first to be deployed at scale, will utilise AI technology to drive data-informed decisions along our corridor and establish a cutting-edge technology for the rest of the industry."
The AI-powered rail safety system is expected to be operational in 2024. Once it is deployed, it will be the first of its kind in the United States and one of the first across the globe.
Image: Istock