The Competition & Markets Authority (CMA) has provisionally concluded that Hitachi Rail's planned €1.7 billion acquisition of Thales' Ground Transportation Systems business would not result in a substantial lessening of competition in the UK communications-based train control (CBTC) market.
The CMA's assessment focused on the likely competition to resignal London Underground's Bakerloo and Piccadilly lines. Initially, CMA was concerned that Hitachi Rail were one of the only suppliers with the required resources to challenge Transport for London's (TfL) current suppliers which includes Thales and Siemens. However, the CMA now says new evidence suggests that Hitachi would not be a credible bidder in the near to medium term.
This is partly because TfL have indicated to the CMA in this report that the Bakerloo and Piccadilly line procurements for its resignalling projects will begin in 2030, five years ahead of the initial schedule. This change in schedule means that the CMA don't believe that Hitachi Rail could complete its more highly complex projects in order to demonstrate its capabilities to deliver for TfL.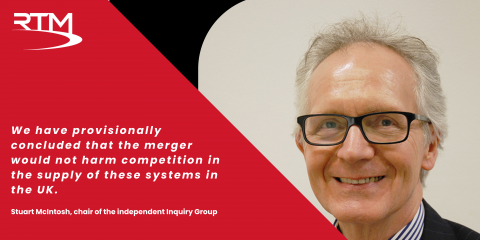 The difficulty and complexities of the resignalling projects on the London Underground and experience and capability to complete the works is high on TfL's wishlist. The CMA however noted that Hitachi Rail's CBTC projects have yet to be completed and are less complex than the current and upcoming London schemes.
Stuart McIntosh, chair of the independent Inquiry Group, said: "Effective competition in the urban and digital mainline signalling markets is essential for ensuring the UK's rail transport systems are efficient and reliable for passengers who rely on these services.
"Having reviewed the additional evidence, which indicates that Hitachi is unlikely to be a credible bidder for signalling projects on the London Underground in the foreseeable future, we have provisionally concluded that the merger would not harm competition in the supply of these systems in the UK.
"That said, our provisional view that this merger raises concerns in the supply of digital mainline signalling in Great Britain, is not affected by the announcement."
The CMA's provisional conclusion is a positive development for Hitachi, which has been seeking regulatory approval for the acquisition since December 2022. The company has said that the merger would create a "global leader" in signalling and help to accelerate the UK's transition to a more sustainable transport system.
The CMA's final report on the proposed transaction is due to be published on October 6.
Photo Credit: Istock