The North Wales Transport Commission has released its interim report which outlines its objectives for the rail network within the region.
The commission which was set up by the Welsh Government to investigate the issues, opportunities and current challenges that are currently affecting the region across the whole of the transport network. Rail forms a key part of the commission's report with several recommendations made that would enhance both passenger experience and capacity.
The region includes several key lines, including the North Wales Main Line, the Borderlands line which connects Wrexham to Liverpool and the Shrewsbury to Chester line.
In the report, the commission has recommended several improvements to both infrastructure and services including frequency improvements from Crewe to Llandudno alongside improvements to signalling and significant changes to Llandudno Junction in the medium term would be needed.
With the Borderlands Line, the commission recommends works on Padeswood sidings would need to be improved before any further work could be completed with the report noting that freight services are blocking the line accessing the sidings. In the most recent report by Network Rail,  the Borderlands Line was highlighted as 'congested infrastructure'
The commission also recommends that signalling improvements at Gobowen , Wrexham and Chirk are improved as a short-term target with increasing capacity on the single-track section between Wrexham and Chester.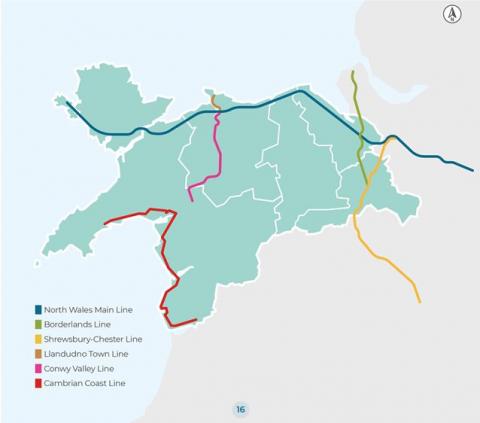 Alongside some of the short and medium-term targets, the commission also highlight where electrification and decarbonisation could happen on the region's lines. They note that battery operated trains should be utilised across the Borderlands line and recommended exploring the possibilities full electrification of the North Wales Main Line.
The interim report is designed to highlight where the commission will focus the rest of its investigations and inform their final recommendations ahead of the final report, due to be published and delivered to the Welsh Government, later this year.
Robert Cook, policy director and Wales & Western lead at RIA, said: "This Interim Report by the North Wales Transport Commission is a positive step towards delivering an efficient, high quality and sustainable transport network for North Wales.
"RIA Wales & Western and our members now look forward to seeing the modelling work and more detailed examinations by the North Wales Transport Commission, which will take place alongside stakeholder input to inform the recommendations within the Final Report later in the year. This is a good first step in the development of that Final Report, and we look forward to working with rail stakeholders and the North Wales Transport Commission in the months ahead."

Want to know more about the opportunities to become a key supplier to the UK rail industry? Attend TransCityRail and access an exclusive marketplace of buyers from Network Rail, HS2, Train Operators, Major Contractors, and all other tiers of the supply chain. For more information and to secure your place click here.