Passenger services on new trams manufactured by Hitachi Rail will begin running in the city of Turin on Monday, September 11. The initial fleet of 30 trams is part of a 70-tram contract signed with Gruppo Torinese Trasporti (GTT) in Spring 2020. The framework agreement is financed by the Ministry of Transport through an agreement with the City of Turin aimed at boosting rail transport in large urban centres.
The trams are being manufactured at the Hitachi Rail plant in Naples, which employs around 1,700 people. Each tram has a maximum speed of 60 kilometres per hour, is 28 meters long, and can accommodate up to 218 passengers.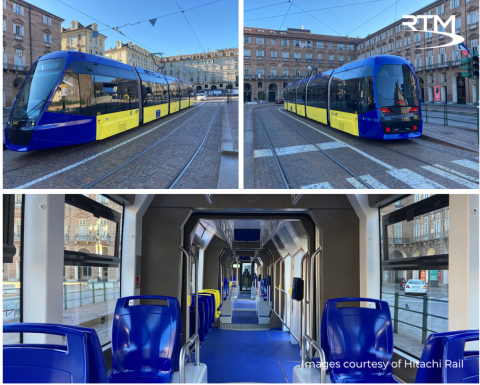 The new trams have been designed to offer a high level of comfort and have been remodelled to provide better use of space alongside an innovative air conditioning system which provides a continuous exchange of air from the outside.
Reflecting Hitachi Rail's commitment to inclusive design, the trams are equipped with two areas for people with disabilities and provide easy access and good manoeuvrability for wheelchairs.
Sirio Model evolution
The new tram is an extensive evolution of Hitachi Rail's SIRIO model, which is designed for short distances and intensive commuter journeys. The SIRIO Model is used in suburban metro networks in Florence, Shanghai and Zhuhai in China. It has also been designed with streamlined sides and a new modern front-end which is designed to minimise disruption within urban areas. The traction system is equipped with two IGBT inverters for each motor bogie, each one controlling a single motor.
Luca D'Aquila, COO of Hitachi Rail, said: "Hitachi Rail's new trams for the city of Turin represent the evolution of the previous SIRIO model, of which hundreds have been built for cities in Italy and abroad.
"The trams incorporate new technologies and high quality standards for reliability and passenger comfort, and are designed to further encourage the use of public transport in cities. We are proud to contribute to Turin's drive to provide seamless and sustainable travel on its public transport network."
The new trams are expected to make a significant contribution to improving public transport in Turin. The tram network currently has 10 routes covering 88km of the city's urban and suburban areas.
Photo Credit: Hitachi Rail