In the years since the introduction of GDPR, the steady rise of Data Subject Access Requests (DSARs), which are commonly requests for video footage, has placed increased demands on legal departments, as well as physical security teams. To manage such requests companies like Scotrail are turning to a dedicated digital evidence management tool such as Genetec Clearance.
With an extensive CCTV network spanning stations, depots and tracks, rail operators are no strangers to requests for access to the video footage they hold. These requests might come from members of the public and external stakeholders such as the police. Or from other departments within the business looking to understand how facilities are actually being used.
There is significant pressure to deal with such requests in a cost and time efficient manner. Yet, without a purpose-built tool, the process of accessing and sharing video surveillance footage is often far more manual than people would think.
It's not uncommon for an operator to have to drive to the location of the camera to retrieve the footage and transfer it to physical media such as a DVD or USB stick. Then to have to hand deliver or post it to the person requesting access. All while hoping the recipient has the necessary software on their device to view the footage that they receive. This is a massive drain on resources and is also risky. The rail operator loses all control over that copy of their footage from the moment it leaves their hands.
In the rail industry, this gives criminals time to hop on board the next train and disappear. Moreover, with thousands of passengers passing through every day, incapacitating security staff with delivery jobs reduces oversight of operations, increasing the risk of a security incident going undetected. Added to this is the increase in requests from internal stakeholders. In a recent webinar hosted by Genetec, ScotRail reported that the majority of internal requests relate to operational purposes. Their requests are even in terms of internal vs stakeholders, between company requesting footage for actionable data on improving passenger safety, or evidence for legal claims.
Clearly,  video requests from colleagues, law enforcement and passengers are pulling rail security teams in every direction. With recent research showing that 46% of security industry leaders are already using physical security systems to improve overall business efficiency, the solution to this influx of information enquiry is to upgrade security operations with a Digital Evidence Management System (DEMS) such as Genetec Clearance.
What makes Genetec Clearance, vastly more efficient for operational staff is that it does not rely on physical media. And as a cloud-based solution it works seamlessly with the end user's Video Management System of choice.
It offers a secure means of retrieving data from the system Genetec Clearance and uploading it to an accessible database which the third party can access through a web browser, with no additional software required. Furthermore, it makes the whole process manageable and auditable. With the ability to set firm rules on who has access, for how long and how the footage can be used.
Integrating Genetec Clearance into the rail network is invaluable for responding to video requests efficiently with informative, actionable data. Clearance's use of cloud technology allows for the centralised video collection. With a vast CCTV network that may rely on different video systems, getting the complete picture of an event can be time intensive and costly. DEMS give access to all information in one location for fast actioning of video requests.
For ScotRail, this means no more long drives to collect freshly burned DVDs. Anne Gray, ScotRail Customer Information Strategy Manager, says "the cloud-based system lets staff download footage remotely, which means our investigation processes can be handled in a more effective timeframe. This has been particularly beneficial when dealing with security and safety incidents".
Video requests can also be streamlined to keep tasks organised. Clearance has a dedicated page for managing requests. Here, it is also possible to customise forms to collect the right information, depending on what the stakeholder needs. After this, users can be assigned to review and validate DSARs, creating a priority list for the security team to work from.
Leveraging Clearance's use of the Cloud is cost-effective. New technology often requires important hardware investments that can be disruptive to an organisations' IT infrastructure.  Genetec Clearance is easy to deploy and accessible through any modern web browser, eliminating hardware costs.
Where video requests from the public are concerned, GDPR rules are clear on rights to privacy. Footage may typically include the faces of multiple other passengers that legally cannot be identified. Clearance has a smart solution for redaction that does not require advanced video editing knowledge. Security teams can easily blur faces and recognisable features before a video is uploaded, without affecting details that are essential to completing data requests.
With Clearance, media is retained within the system, making it easier to stay compliant with GDPR legislation when handling video evidence. "The system has allowed us to tighten our Data Protection policies and audit processes" says Anne Gray. "All interactions with the web portal are logged and we can watermark footage. We can trace everything back to where it originated".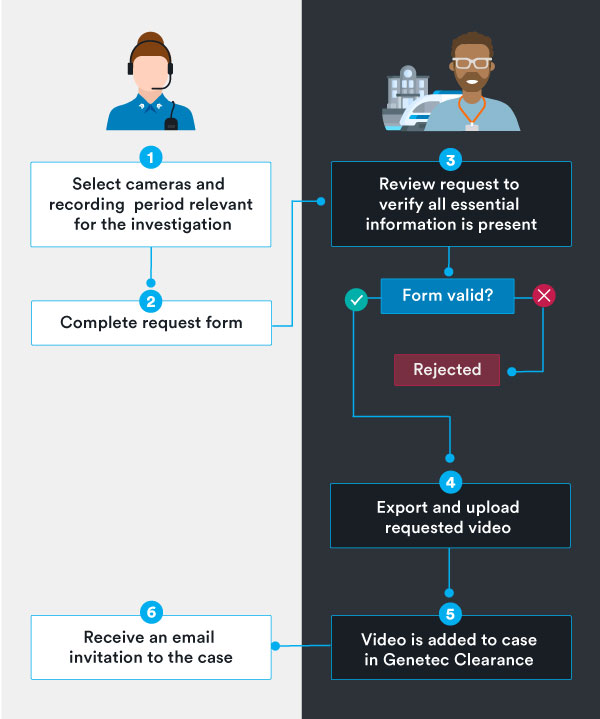 The accessibility of Clearance also creates opportunities to collaborate with stakeholders close to home. Businesses in or around the transit network likely manage their own video surveillance. These video cameras can sometimes capture events the rail security team might miss, or only see from afar. Clearance's camera registry module can keep track of potentially useful resources and simplify the workflow needed to request video from external stakeholders.
When it comes to GDPR and video requests, there is little room to manoeuvre. Taking a digital approach to evidence management allows for increased collaboration and the breaking down of siloed systems with efficient best practice. Adopting DEMS into operations is relatively easy. It simply requires a short period of training for staff and quickly pays off through improved efficiency. It makes responding to video requests as easy as possible, allowing rail security teams to reclaim the time they need to keep passengers and staff secure across their entire transit network.