As an established rail freight operator with 55 years' experience in delivering first-class rail freight solutions for our customers, Freightliner, a subsidiary of Genesee & Wyoming Inc. (G&W), has had a critical role to play during the Covid-19 outbreak. 
With flexibility and resilience built into its operations, Freightliner has quickly established business continuity procedures to ensure it has been able to continue operations as a critical infrastructure supplier during the coronavirus crisis.
One such example is the recent two-week blockade of the Kilsby Tunnel on the West Coast Main Line in order to renew drainage and remove a long-term speed restriction.
In view of Freightliner's previous excellent track record in delivering works of this nature, they were chosen to haul all of the engineering trains to site, including some of the 3,056 metres of new rail, 2,548 new concrete sleepers, 5,700 tonnes of new ballast, 1,080 tonnes of pea gravel, 745 metres of new drainage pipe and 13 new catch pits.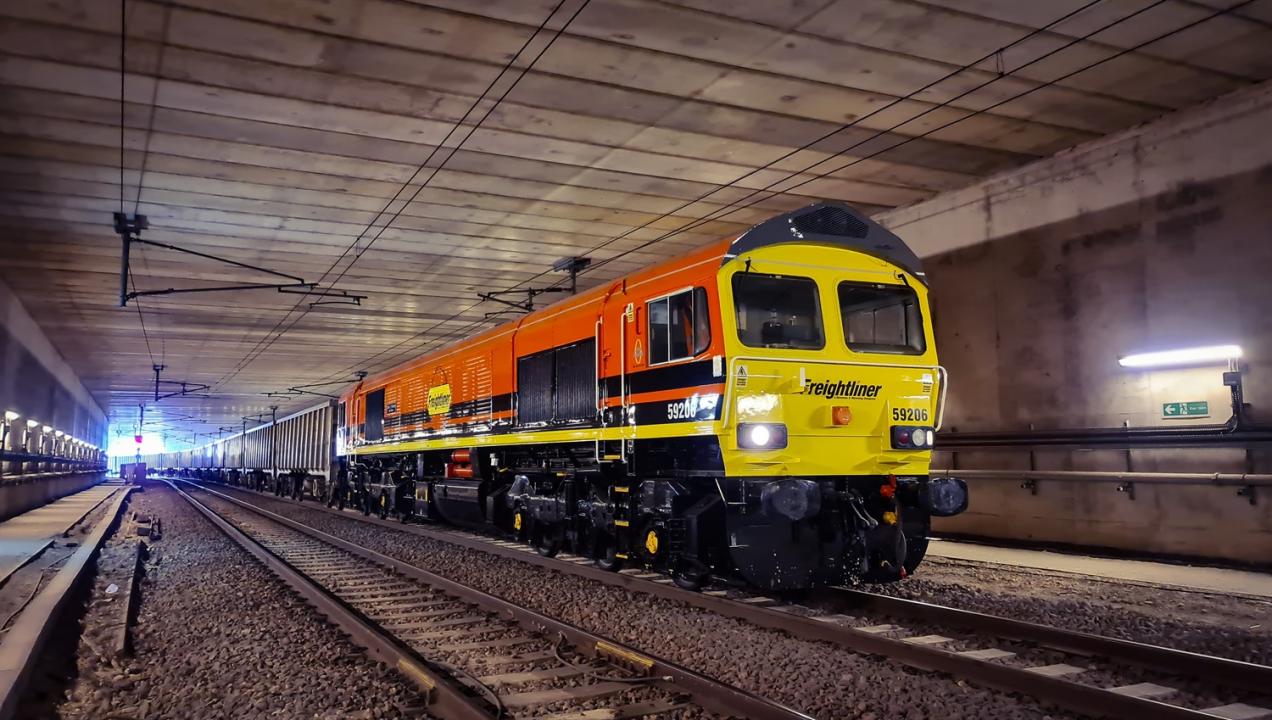 Similar works are usually planned over a period of many months but, on this occasion, the plan was formulated with less than a week's notice.  Notwithstanding social distancing and other challenges, Freightliner successfully delivered 15 trains over three phases, with the work site handed back and the track ready to be tamped for line speed by the 15 May deadline.
As the UK's leading intermodal rail freight provider, and despite the COVID-19 challenges which has seen a significant reduction in intermodal and bulk freight volumes across the UK , Freightliner has continued to run around 70 container trains daily, into and out of the UK's major ports, transporting much-needed supplies including goods that help to keep supermarket shelves stocked across the UK, vital medical supplies and other key consumables for families in lockdown.
With a dedicated fleet of locomotives and highly trained, safety-focused employees, it's no wonder that Freightliner also leads the way in providing bespoke bulk freight haulage solutions for blue chip customers across the UK.
Freightliner has continued to haul aggregate for Mendip Rail to ensure vital construction projects can continue in London and the South East.   
Medip Rail's Director Jason Black said: "I am delighted with how well the contract with Freightliner is progressing and, in particular, the professionalism, flexibility and resilience demonstrated by their bulk haulage team in keeping vital construction materials moving during these challenging times."
Additionally, Freightliner operates three trains a day on behalf of customer, SUEZ, moving around 1,500 tonnes of domestic waste from the streets of Manchester to the energy-from-waste (EfW) plant in Runcorn where it is recycled into high quality raw materials and renewable energy.
Communications and Partnership Manager, Recycling and Recovery UK, Mike Nuttall said: "Everyone in the waste industry is working hard to make sure we are able to maintain essential services for residents across the country during these extremely challenging circumstances.
"Freightliner is one of SUEZ's key partners in the north west, and they are a vital link in the management and transportation of domestic waste in Greater Manchester. We rely on the Freightliner team every day to move tons of material from our waste handling and processing facilities across the region to the energy from waste plant in Runcorn, ensuring we are able to maintain the provision of key services to communities and local authorities across Greater Manchester."
To see what Freightliner can do for you, please contact:
Email:  [email protected]
Website:  www.freightliner.co.uk
Tel:  03330 169545 
Twitter:  @Railfreight
LinkedIn:  Freightliner Group Ltd
Facebook:  Freightliner Group Ltd