GB Railfreight (GBRf) has announced the successful completion of a four-week trial of an innovative new brake monitoring system. Developed in collaboration with Icomera, DG8 and SENSEi, the world-first system enables battery-powered sensors to remotely share status and out-of-tolerance alerts with drivers and operational control centres while they perform vehicle pre-checks.
It is hoped the IoT technology can help create a safer and more efficient rail network by reducing the number of incidents relating to wheel and brake faults. Until now, there has been no known method for wirelessly transmitting freight wagon brake sensor data to the driver in the locomotive via a closed system.
With the new system, train drivers receive sensor data directly to an application on a tablet in their cabin. This allows them to take immediate action to mitigate potential wheel or brake-related risk factors, as well as respond to real-time feedback on the results of their actions.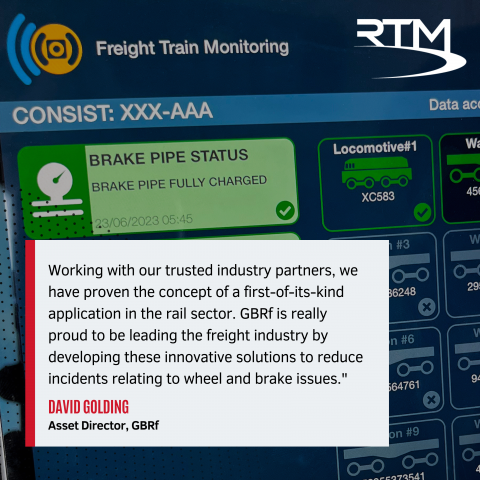 David Golding, Asset Director at GBRf, commented: "Working with our trusted industry partners, we have proven the concept of a first-of-its-kind application in the rail sector. GBRf is really proud to be leading the freight industry by developing these innovative solutions to reduce incidents relating to wheel and brake issues."
Following the successful trial, GBRf is now developing the next set of solutions and scheduling further trials.
Peter Kingsland, SVP at Icomera UK, added: "Rail freight operators are rightly paving the way for digitally driven solutions to mitigate risks as the freight industry grows. Connecting drivers and the engineering teams that support them to real-time trainborne sensor data is a natural step towards a safer and more efficient rail network for all users."
Damon Thomas, Chief Executive Officer at SENSEi Networks Limited, also said: "The utilisation of low-power sensors, long range, wireless networking and edge intelligence is enabling long sought ambitions for autonomous monitoring and real-time alerting to be realised in the freight rail sector, fulfilling the potential for significant improvements to operational efficiency, cost and safety."
Photo: GB Railfreight