Greater Anglia has reduced its carbon emissions by 17% in the past year, marking the third year in a row that the train operator has made progress on its sustainability goals.
The reduction, which is equivalent to the emissions produced by over 130,000 homes' annual electricity usage, has been achieved thanks to a series of energy and carbon reduction measures.
These include the introduction of new more energy-efficient trains, cutting waste, increasing recycling, and working with partners and communities on projects to improve sustainability and biodiversity at stations.
Greater Anglia has also installed wireless energy management systems at its rail stations to ensure heating and lighting are used efficiently, and taken steps to reduce water consumption.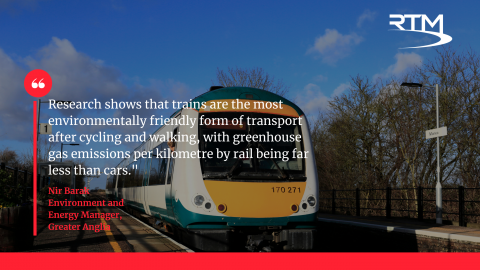 The reduction in emissions is also in part thanks to the continued 'greening' of the National Grid which now uses more renewable sources to generate electricity, and this in turn powers Greater Anglia's electric trains, depots, and stations.
Commenting on the figures, Greater Anglia's environment & energy manager, Nir Barak, said:
"I am pleased that we have made even more progress in the last year towards becoming ever more sustainable as an organisation.
"Research shows that trains are the most environmentally friendly form of transport after cycling and walking, with greenhouse gas emissions per kilometre by rail being far less than cars.
"Our new trains are more efficient and produce less particulate pollution than our old ones which is helping to make rail travel in East Anglia an even more environmentally friendly option."
Greater Anglia's new trains are designed to be more efficient and are built to higher emissions standards compared to the old ones with aerodynamic fronts, a lighter chassis and brakes which returns energy back to the network.
They are also longer with more seats, which means that they can carry more passengers and take even more cars off the road - preventing tonnes of harmful CO2 emissions from being released into the atmosphere as well as reducing congestion.
Greater Anglia's commitment to sustainability is part of its wider plan to become a Net Zero organisation by 2050. The company is working to reduce its emissions across all areas of its business, including its operations, supply chain, and its customers' journeys.
Photo Credit: iStock