The Railway Industry Association has welcomed the backing from London Mayor, Sadiq Khan for the proposed Heathrow Southern Rail Link.
Speaking at the London Assembly recently, Mr Khan said: "I welcome the useful role that a Southern Rail Link to Heathrow could play in supporting a shift to sustainable modes, while transforming access to Heathrow Airport for passengers and staff from south London, Surrey and Hampshire.
"I am aware that a number of factors coming together in recent months have increased the prospects of a scheme moving forward.
"The Greater London Authority and Transport for London maintain regular dialogue with a broad range of interested stakeholders as we look to resolve the issues which have obstructed progress to date, while ensuring that any scheme meets the needs of Londoners and does not impact the reliable operation of the railway network."
The Heathrow Southern Rail Link is a proposed new line running from Heathrow Airport's Terminal 5 station through to Staines-Upon-Thames, connecting it to the existing south western rail network.
A second proposed branch would connect the airport to Virginia Water and to services towards Surrey and Berkshire.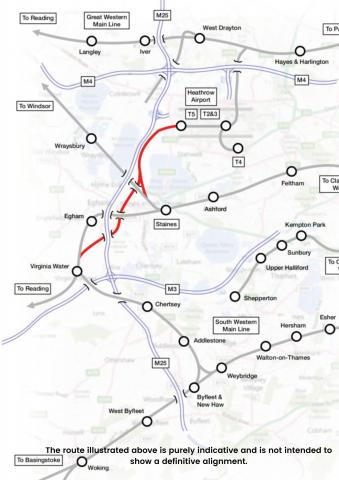 Ryan Anderson, RIA London & South chair, said: "RIA London & South is pleased to see cross-party support building for the development for a Southern Access to Heathrow scheme. It is great news that London Mayor Sadiq Kahn has given his backing to the Heathrow Southern Railway Link project, following support for such a link expressed by Transport Minister Baroness Vere of Norbiton in June.
"This landmark scheme will not only provide a better passenger experience for those travelling between Heathrow, South London, Surrey, Berkshire and Hampshire, but it will also help contribute to reducing carbon emissions by encouraging more people to connect with the airport by rail.
"RIA London & South supports initiatives that prioritise the expansion and enhancement of the railway network in the London & South region, and we and rail businesses across the UK look forward to collaborating with stakeholders to turn this vision into reality. Investing in rail infrastructure is essential for the nation's economic growth and environmental sustainability."
In June, the Transport Minister, Baroness Vere of Norbiton had said any Heathrow Airport access scheme had to be privately funded including the Southern Rail Link.
"Government remains committed to improving rail access to Heathrow airport and our ambition is that any Southern Access to Heathrow scheme is funded and delivered by the private sector.
"Proposals need to be developed in a way that does not require government funding and secures significant benefits. We continue to discuss options and engage with the promoters as they work to resolve these outstanding issues.", she commented.
Photo Credit: Istock