HS2 Ltd celebrated achieving a key milestone in the development of the rail line as it hit its target of 10 million tonnes of aggregate hauled by rail.
Businesses involved came together to celebrate at an event at Tarmac's Tunstead Quarry near Buxton, including HS2 Ltd, Network Rail, aggregate suppliers, transport solution companies, and four freight operators – along with a unique line-up of locomotives from each company.
HS2 launched its Materials By Rail programme in 2020, with an initial target of hauling 10 million tonnes via rail by 2030 which would in turn take 1.5 million lorries off the road.
Since then, HS2 and its strategic partners, Network Rail, freight operators and building materials companies have completed that milestone in two years.
HS2 have now set their sights on doubling that amount with 20 million tonnes expected to be moved during the whole of the Phase One programme with three million lorries taken off the road during that time.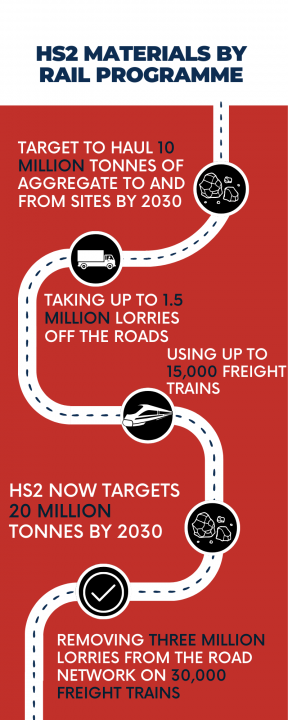 David Speight, delivery director for Main Works Civils Phase One, HS2 Ltd said: "Our 'Materials by Rail' strategy plays a vital role in our objective to cut carbon right across the project, and we're working hard with our joint venture companies, Network Rail, freight operators and aggregate suppliers to make deliveries by rail where possible.
"In addition to cutting carbon emissions, HS2's 'Materials by Rail' strategy is creating jobs and skills opportunities right across the country, along with minimising impacts to communities along the line of route."
The event was attended by MP for High Peak Robert Largan, HS2 Ltd.'s conventional rail interface manager Andrew Graham, managing director – Midlands Region at Tarmac Rob Doody, regional freight manager – North West and Central Region at Network Rail Chris Bennett-Poynter
Chris Bennett-Poynter, regional freight manager – North West and Central Region at Network Rail said: "We're delighted to mark this significant milestone for HS2's 'Materials by Rail' programme which is taking polluting lorries off our congested roads to transport aggregate across the country in a fast, reliable and environmentally friendly way."
Want to know more about the opportunities to become a key supplier to the UK rail industry? Attend TransCityRail and access an exclusive marketplace of buyers from Network Rail, HS2, Train Operators, Major Contractors, and all other tiers of the supply chain. For more information and to secure your place click here.