Construction on the fourth twin bore tunnel of the HS2 project is about to start as HS2 revealed the first images of the boring machine (TBM) that will be used to construct it.
The machine, named Mary Ann – named by the residents of North Warwickshire after George Eliot whose real name was Mary Ann Evans will begin work on the new 3.5 mile tunnel shortly.
The Bromford Tunnel will stretch between Water Orton in North Warwickshire and Washwood Heath in Birmingham as the route makes it way to Birmingham's Curzon Street station.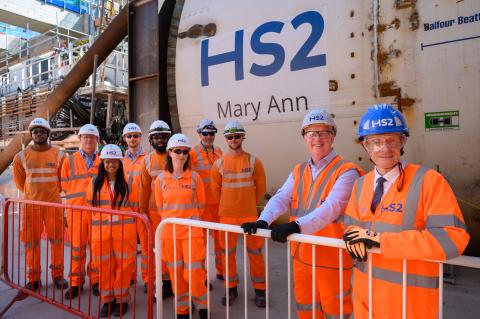 The TBM will be operated 24/7, with each bore taking 16 months with 450 people working on the project.
Once final testing has been completed, the TBM will launch from a large 30m x 15m box underground with some of the machine sections having already being lowered into place, including a massive 8.62 metres diameter cutterhead.
HS2 Ltd CEO Mark Thurston said: "It was fantastic to celebrate this big construction milestone on the HS2 project as the Bromford Tunnel TBM gets ready for its journey to build the tunnel into Birmingham.
"There are nearly 9,000 people in the West Midlands working on HS2, with a 450-strong team working on this particular operation."
At the end of the project, a total of 20,797 segments will be put in place by the TBM, making 2971 concrete rings to form the tunnel.
Neil Johnson, health, safety, wellbeing and tunnels director,  at the project's contractors Balfour Beatty VINCI said: "The excitement among the tunnelling team at our Bromford site has been growing for months as we've worked hard to prepare for yet another huge moment on the HS2 project. The whole team is proud to reach this next big milestone."
Image Credit: HS2 Ltd
Want to know more about the opportunities to become a key supplier to the UK rail industry? Attend TransCityRail and access an exclusive marketplace of buyers from Network Rail, HS2, Train Operators, Major Contractors, and all other tiers of the supply chain. For more information and to secure your place click here.