Major work to install a modern signalling system throughout Cornwall has begun with work to continue during October and November.
Network Rail will also start to upgrade the signalling east of Plymouth. Starting on Monday 25 September, most work will be carried out overnight but will impact trains at the start and end of most days.
When complete, the new system will improve safety and reliability in the area and open up the potential for further improvements to rail services in the region.
The £100 million Cornwall upgrades will see the current Exeter signalling centre become the central point for the West of England, with stretches of the line between Lostwithiel and Truro to be controlled by a new work station.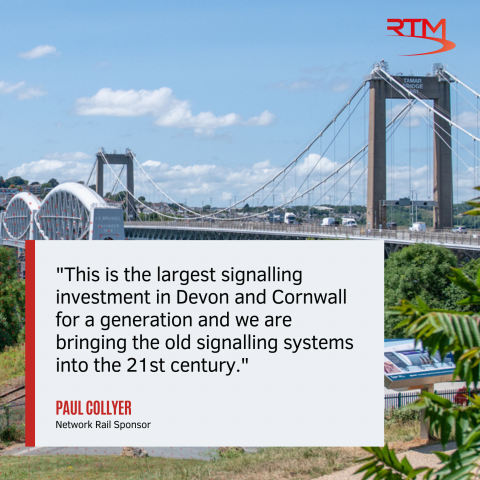 Work will also be carried out on the Plymouth Power Box eastern section, with signals being replaced.
Alongside the signalling upgrades, some branch line improvements will be made, with the aim of increasing timetabling in the region. Most notably, upgrades will be carried out between Par and Newquay as well as the installation of a passing loop at Newquay. This is seen as integral to the Mid-Cornwall Metro project which received funding earlier in the year and would see regular direct services between four of Cornwall's largest towns.
The work in Cornwall will be completed in several stages this autumn, with further work also planned over Christmas and into next spring.
As well as the upgrades in Cornwall, Network Rail confirmed that work will also be carried out from September until early 2024 between Plymouth and Newton Abbot.
Paul Collyer, Network Rail sponsor, said: "This is the largest signalling investment in Devon and Cornwall for a generation and we are bringing the old signalling systems into the 21st century.
"Unfortunately we do need to cause some disruption to carry out this work, but once complete, passengers travelling into and around Cornwall will feel the benefits for years to come."
Sharon Holloway, GWR station manager for West Cornwall, said: "We recognise that these works will be very disruptive for our customers, and we thank them in advance for their patience and understanding.
"These upgrades will help to make our services in the region more reliable and allow scope for extra services to be added in the future."
Photo Credit: Istock