Network Rail has announced that the road underneath Botley Road bridge in Oxford is to remain closed until October 2024, after a number of unique challenges delayed the project this summer.
The road was originally due to open next month, with a further six-month closure planned from March 2024 to October 2024. However, Network Rail has said that the project is "extremely complex" and has been made even more challenging by the discovery of an inverted brick arch underneath the road, thought to be part of the original Victorian drainage system.
The arch is far larger than previously known, stretching for around 100 metres between Mill Street and Frideswide Square. Network Rail has said that the arch could form part of the structural support of the railway bridge, and therefore needs to be carefully protected during the works.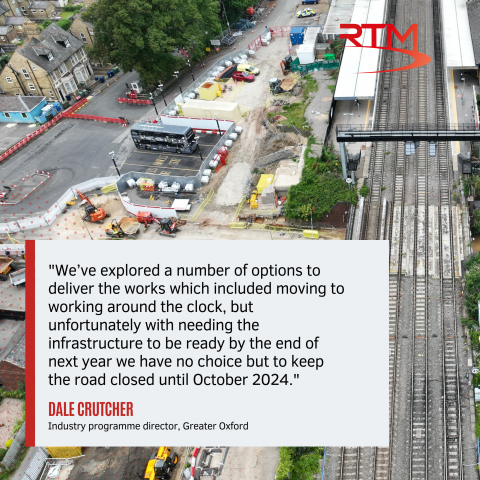 In addition to the discovery of the arch, Network Rail has also had to contend with the discovery of a WWII era hand grenade within the work site in July.
Despite the challenges, Network Rail has said that it is committed to completing the project as quickly as possible. Work on the £161m Oxford station and railway upgrade began in April, and once complete will provide passengers with a bigger and better Oxford station.
The development at Oxford station has meant the road network near the station needs to be upgraded and improved, with safer junctions and cycle paths all part of the works programme.
Dale Crutcher, Network Rail's industry programme director for Greater Oxford, said: "This project is extremely complex and has been made even more challenging by the extent of the brick arch underneath the road. We've explored a number of options to deliver the works which included moving to working around the clock, but unfortunately with needing the infrastructure to be ready by the end of next year we have no choice but to keep the road closed until October 2024.
"I understand this will be disappointing for residents and businesses, and I'm sorry for the disruption this will cause.
Councillor Andrew Gant, Oxfordshire County Council's Cabinet Member for Highways Management said: "Obviously it is disappointing that Botley Road will remain closed for longer than expected but there was no alternative due to the difficulties faced by Network Rail in this complex project.
"We continue to thank residents, commuters and businesses who have been affected by this work for their patience and understanding. As the highway authority, we will continue to work with Network Rail and other partners and discharge our duty to manage the highways network effectively."
Photo Credit: Network Rail