The extension to the Bakerloo line, the extension of the Elizabeth line to Kent and Crossrail 2 are part of the London Councils "London Infrastructure Framework.", which was unveiled yesterday.
The framework has been created by London Councils – an umbrella group that consists of the 33 local authorities that make up Greater London with the aim of stimulating economic growth in the area.
It has been developed with the boroughs by the economic consultancy Metro Dynamics and through close working with the Greater London Authority and Transport for London (TfL), it is hoped by promoting more efficient planning and delivery of infrastructure.
The extension of the Bakerloo line was initially proposed by Tfl and would see the line extended from Elephant and Castle to Lewisham and would have seen four new stations built, however cost issues with TfL and the government has meant the project has been put on hold for the foreseeable future.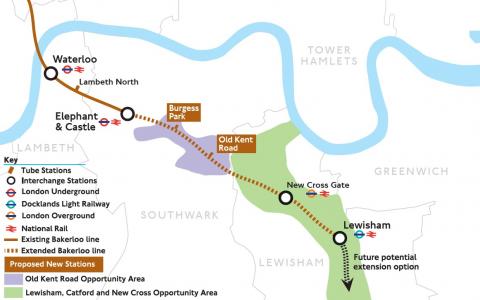 However, the Department for Transport did safeguard the route for the £4bn line extension, signalling that it had been put on hold, rather than cancelled altogether.
It is a similar story with Crossrail 2, which TfL commissioner Andy Byford officially put on hold in 2021 after the ballooning costs of Crossrail.
London Councils believe that any extension to the Bakerloo line would support the development of 110,000 new homes and nearly 130,000 new jobs in the area.
Cllr Elizabeth Campbell, London Councils' executive member for London's Future: Business, Economy and Culture said:
"Boroughs are collaborating like never before to promote infrastructure investment in the capital and help us achieve our shared vision of a more prosperous, inclusive and sustainable London.
"By setting out boroughs' agreed priorities and the exciting range of development opportunities across the capital, the London infrastructure framework will drive investment towards where it will make the most difference."
Want to know more about the opportunities to become a key supplier to the UK rail industry? Attend TransCityRail and access an exclusive marketplace of buyers from Network Rail, HS2, Train Operators, Major Contractors, and all other tiers of the supply chain. For more information and to secure your place click here.