A series of eye-catching benches by up-and-coming architects have been revealed at some of London's largest railway stations, following a design competition organised by the London Festival of Architecture and Network Rail.
From an oversized rocking chair to seating that uses the clay beneath Londoner's feet to absorb the pollutants around them, this charming series of new installations demonstrates how creative architecture and design can make a real difference to the everyday travelling experience in Britain's railway stations.
For the London Festival of Architecture, the commissions are the newest in a series of public installations that bind and celebrate emerging architectural and design talent, while improving London's shared spaces and connecting people with new architecture and the buildings around them.
For Network Rail, who are already responsible for many of Britain's finest buildings, the series is part of an improved focus on applying the highest design standards across Network Rail's built environment, whether it be new stations and signal boxes or bridges and benches.
Over 70 design teams answered the open call for entries, and a challenge to consider how better station seating might look, with the potential for winning ideas to be replicated across stations managed by Network Rail in the future.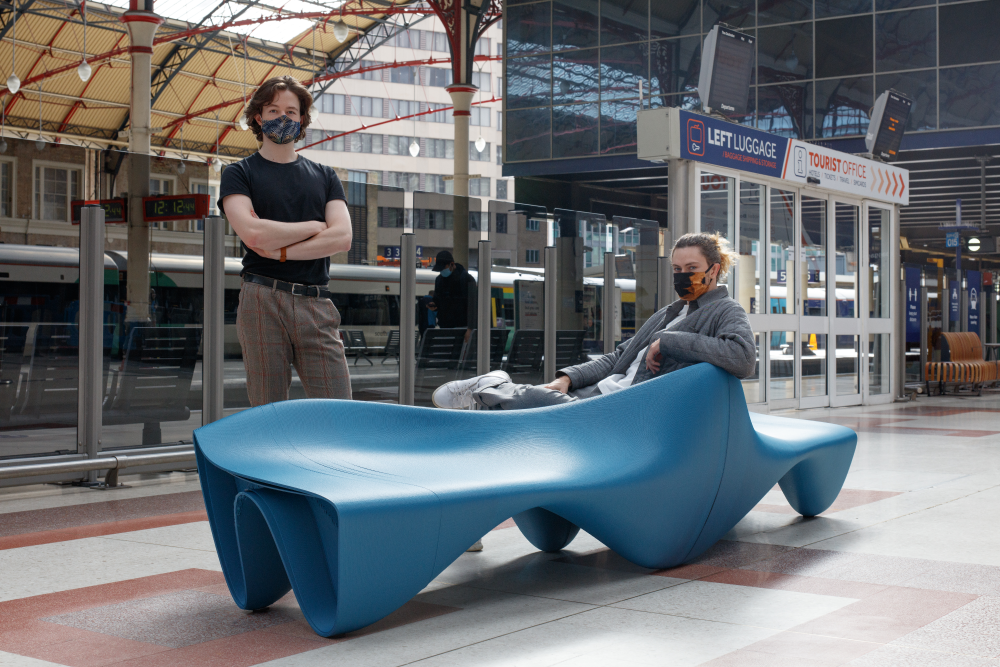 The five new benches are featured at Victoria Station, Charing Cross Station, Waterloo Station, London Bridge Station.
Frank Anatole, Principal Architect at Network Rail, said: "We are so looking forward to seeing these imaginative concepts finally installed at our stations at Waterloo, London Bridge, Charing Cross and Victoria, and we hope people will love them.
"The young designers have faced additional pressures resulting from the current health emergency, including material supplies, workshop availability and the measures that we've had to put in place at our stations to keep passengers and station users safe. But all have risen brilliantly to the challenge, and the results will undoubtedly bring a ray of sunshine and a welcome smile to station users over the coming weeks."
Tamsie Thomson, director of the London Festival of Architecture, said: "It has been a real pleasure to work alongside Network Rail on the 'Sitting Pretty' competition, and to give such a talented cohort of outstanding architects and designers a brilliant opportunity to celebrate their work.
"London's station concourses are amongst the city's most important public spaces: for our winners they create an outstanding platform to showcase their skills, and for the public I hope these benches will be a joyful encounter with architecture and design in the midst of the city."