Network Rail are closing a section of the south London railway for 10 days over Christmas for major track and signalling upgrades.
Work will be undertaken on the line between Herne Hill, Brixton and London Victoria and will be closed for 10 days, from Saturday 23 December to Monday 1 January and will include work on the installation of a new signalling system on the lines, designed to replace the existing 1980's signalling system. It is expected that the system will be live in 2024.
Alongside the work on the new signalling system, Network Rail will be working to rebuild a busy and critical rail junction between Clapham and Wandsworth, replace 14 sets of switches and crossings, lay more than 1,600 metres of new track and 1,000 metres of conductor rail, and install 2,600 new sleepers.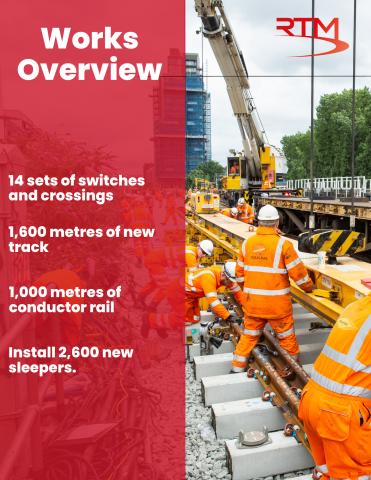 David Davidson, Network Rail Kent route director, said: "The work we are doing to the track is one of the biggest projects we've delivered over the past five years, a truly massive undertaking involving hundreds of operatives, one Kirov crane, 22 engineering trains and 413 wagons carrying thousands of tonnes of materials."
"We'll make the most of the time when the railway is closed by doing as much work as possible, including progressing the next phase of our Victoria and south London signalling upgrades that will see a brand-new signalling system on the lines from Herne Hill and Nunhead to London Victoria come into use next Christmas."
Engineers will also be completing drainage repairs, track maintenance and full inspections during this time.
Rory O'Neill, TfL's general manager for London Overground, said: "This Network Rail maintenance work is essential to ensure London Overground customers continue to receive a reliable service. Undertaking the work over the Christmas period, when services are traditionally quieter, helps minimise the impact on customers who use our services."
This work follows recent upgrades between East Croydon and London Victoria which has seen delays slashed in half and is part of Network Rail's wider London Victoria South London resignalling programme.
Photo Credit: Network Rail