The multi-million-pound project to make repairs to the historic Royal Border Bridge on the East Coast Main Line in Berwick-upon-Tweed has now been completed. 
The bridge which is 170-year-old and Grade I listed has had all 28 arches repaired. Work has been carried out since January 2022, which meant an innovative but complicated rope system was needed to complete the repairs rather than the usual scaffolding spanning the bridge.
It is estimated that using this system saved £5 million and meant that the line remained open throughout the period of works.
The bridge is key part of the East Coast Main Line, sitting near the border of England and Scotland.
The listed status of the bridge, which is 40-metres high meant that close collaboration was needed between Network Rail and Historic England as the brickwork, which is over 100 years old had to remain in keeping.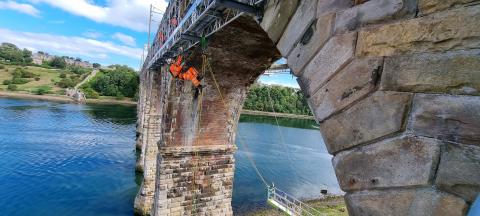 The bridge was designed by Robert Stephenson and when built in 1848 was the final link for a continuous railway between London and Edinburgh. The last period of extensive work was completed in 1993.
Jon Calvert, principal portfolio manager at Network Rail, said: "It is great that this major project to restore the iconic Royal Border Bridge has now been completed.
"By working innovatively, we've managed to make major savings and keep a vital part of the railway open to passengers during the programme of work. The repairs will mean that we won't need to complete any major maintenance work for the next 30 years and I'm delighted that the bridge is back to its former glory."
Image Credit: Network Rail
Want to know more about the opportunities to become a key supplier to the UK rail industry? Attend TransCityRail and access an exclusive marketplace of buyers from Network Rail, HS2, Train Operators, Major Contractors, and all other tiers of the supply chain. For more information and to secure your place click here.