An extra £8bn-plus could be pumped into the Northern Powerhouse Rail (NPR) project, bringing the fund to £20bn, the Manchester mayor has said.
Mayor of Manchester Andy Burnham said investment in the eagerly awaited high speed link from Liverpool to Manchester could be higher than anticipated.
The government axed the second leg of HS2 last month, replacing the Midlands to Manchester leg with a promise to invest £12 billion in connecting the two cities as part of its Network North package of improvements.
With HS2 Phase 2 cancelled, the government set out its plans in its Network North plans, which said: "a further £12bn to better connect Manchester to Liverpool. This would allow the delivery of NPR as previously planned, including high-speed lines."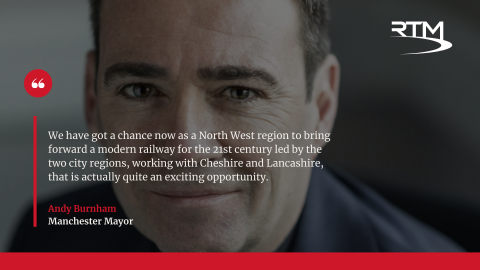 However, speaking at a press conference about the government's U-turn on ticket office closures and after a meeting with Liverpool mayor, Steve Rotheram and rail minister, Huw Merriman on Monday, mayor Andy Burnham said the minister had 'indicated a willingness' to look at further regeneration opportunities.
Burnham said that Merriman had "indicated a willingness to really work with us around the place-based regeneration that the right railway could bring to city centre Liverpool, Warrington, Manchester Airport and Manchester Piccadilly".
He continued: "We confirmed that our ambitions remain a station at Manchester Airport and an underground station at Manchester Piccadilly."
Initial plans unveiled in 2015, promised a high-speed rail line between Liverpool and Leeds which was significantly scaled back in 2021's Integrated Rail Plan with only the core route between Liverpool, Manchester and Leeds to be built, with £4 billion committed to that project by Boris Johnson's government.
Burnham gave details on where he thought the extra money could be found, to boost the budget for the new line to nearer £20 billion.
He said: "The minister said he was open to the idea of land value capture playing a part in that so that the lift in land values that comes by putting in modern infrastructure, some of that can be brought back to help pay for that infrastructure.
"So can we make the £16bn into £20bn for instance, or even a little more, so that we can achieve the ambitions."
Photo Credit: iStock