Engineers have completed the first round of reliability upgrades to the West of England railway,

Network Rail

has announced.
The line between Yeovil Junction and Axminster reopened last weekend after improvements were made at four different sites as part of plans to enhance rail performance across the West of England region.
This phase of the £500,000 investment in the region included stabilisation works at Crewkerne tunnel after a landslide in October 2021.
Engineers installed specialist soil nails just outside the tunnel's entrance as well, along with new drainage to mitigate heavy downpours.
Other work featured new barriers for Broom and Axe level crossing, a new coat of anti-corrosion paint for Weycroft River Bridge, and removing wet beds at Crewkerne level crossing.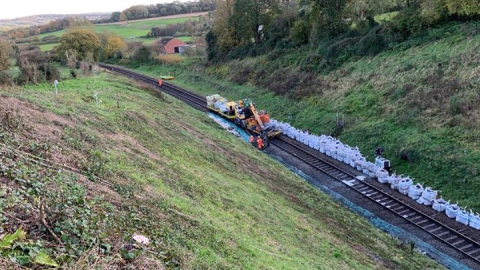 The second stage of works will take 16 days and commence from Saturday 25 November.
It will include the replacement and recycling of approximately 1280m of track between Tisbury and Sherbourne, as well as 457m of track through Gillingham station platform one.
The line between Tisbury and Gillingham will benefit from cleared vegetation, while engineers will also complete maintenance work at Wyley and Castleton level crossing and stabilisation works at Gillingham tunnel.
Wessex route director at Network Rail, Mark Killick, said: "This closure will enable our engineers to continue these important upgrades as part of our continued programme of investment on this line."
He continued: "These upgrades are crucial for the safe and reliable running of services on the West of England line in the future and I'm grateful to customers for their patience and understanding during this time."
Hero image credit: iStock