The Office of Rail and Road (ORR) has approved Network Rail's £43.1 billion plan for Control Period 7 and which will run over the next five years.
The plans, which cover the period from 1 April 2024, promises increased spending on core railway infrastructure. The £600 million budget is aimed to bolster asset sustainability, safety and performance.
The plan which Network Rail set out included a more customer focused railway and includes setting specific train performance requirements, reducing freight cancellations and increasing spending on core assets.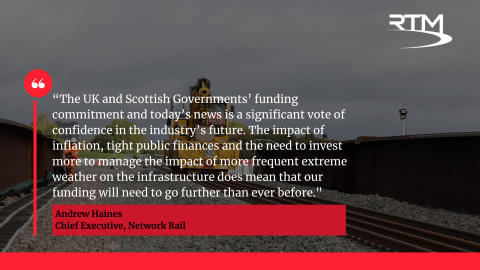 The targets that Network Rail set for train performance have been strengthened by ORR since the initial suggestions by Network Rail. The targets set are designed to be challenging and will require Network Rail to work with operators to ensure that cancellations are reduced.
Increased spending on renewals is also a focus for the next period and for the first time ever, rail freight growth has been set a target, which will be set at 7.5% in England and Wales and 8.7% for Scotland.
ORR will also continue to cap track access charges for freight operators below cost as well.
ORR director, Economics, Finance and Markets, Will Godfrey said: "I'm pleased to see that Network Rail has responded well to our challenges to its initial plans and the result is more robust and customer focussed plans which we believe will deliver better outcomes for passengers and freight.
"The plans are challenging but achievable. Our five-year funding and regulatory settlement provides stability and a platform for the industry to plan and invest."
Sustainability is still on the agenda with Network Rail challenged to reduce its carbon emissions by more than 20% alongside deliver efficiencies of at least £3.2 billion in England and Wales and £0.4 billion in Scotland.
"This is important not just for Network Rail, but also for passenger and freight operators and the supply chain.
"Network Rail must now set out how it will deliver on our final determination", Godfrey added.
Andrew Haines, Network Rail chief executive, said: "The rail sector enjoys an almost unique level of funding certainty and that is a privilege that comes with serious responsibilities.
"More than £43bn will be spent over the next five years to deliver a safer and better railway for passengers and freight customers.
"Today's announcement gives clarity and certainty for the railway and our supply chain partners and will now enable us to continue building on our detailed delivery plans."
Photo Credit: Network Rail