GB Railfreight has opened its new maintenance hub in Peterborough. The state-of-the-art maintenance hub is located along the East Coast Mainline and is one of the most substantial investments in the rail freight sector in recent years.
The £5.75m facility, will be able to analyse four wagons per shift and also significantly improve maintenance possibilities for the freight industry. Alongside offering better and safer maintenance for freight wagons, it will also act as a facility to test innovation and new smart technology.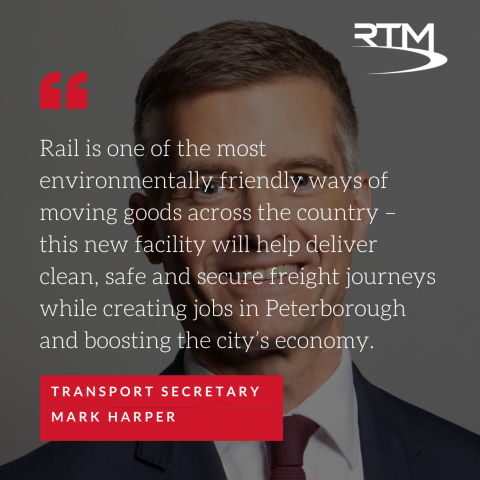 The hub opening was attended by Secretary of State for Transport, Mark Harper, who said: "This impressive new maintenance hub demonstrates the important role private sector investment plays in modernising the rail freight industry and helping grow the economy.
"Rail is one of the most environmentally friendly ways of moving goods across the country – this new facility will help deliver clean, safe and secure freight journeys while creating jobs in Peterborough and boosting the city's economy."
GB Railfreight believe that the new hub will be key to its ambitious growth plans which includes running up to 80 intermodal services per day by 2025. The building, which was built on derelict land took 10 months to complete and has strong sustainability credentials – it is fully powered by electricity and has been designed to support electric shunt engines and forklifts to reduce carbon emissions.
John Smith, CEO of GB Railfreight, said: "Today's announcement demonstrates our commitment to continued investment and innovation in the rail network. The role of the private sector cannot be understated as a tool to help Britain drive jobs and growth in its regional economies and achieve its net zero targets.
"We are excited for the role we get to play in this important journey as we meet the demands of customers looking to decarbonise their supply chains."
Photo Credit: GB Railfreight