Northern is looking to improve the amount of recycling across its stations in the North as part its 'When it's read it's Blue' scheme.
This follows the recent announcement that Govia Thameslink recently reached a 90% recycling rate at Brighton station.
Northern's recycling campaign encourages passengers to use its blue recycling bins dedicated for disposing of newspapers.
The bins will be available at 10 stations across the train operator's network.
These stations include Manchester Victoria, Morpeth, Cramlington, Alnmouth, Shipley and Meadowhall, Skipton, Bradford Forster Square, Halifax and Blackpool North stations.
The trial can help reduce waste contamination from other materials as this means the bin will be rejected at recycling centres.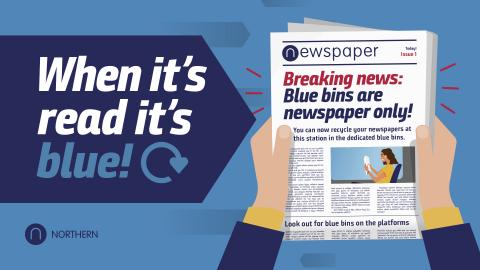 When it's read it's Blue campaign, image - Northern
The Black-rimmed bins at Northern's stations are currently for all other waste but contain a metal strip which makes them unsuitable for paper recycling.
The introduction of the scheme coincides with the Great British Spring Clean which is set to run until 10th April.
Mike Roe, Safety and Environment Director at Northern commented on the benefits of the 'When it's read it's Blue' campaign.
Mr Roe said: "Northern is delighted to be rolling out this trial across the network.
"[This means] we can help stop newspapers from going to waste and help our customers to recycle."
The Great British Spring Clean is run by Keep Britain Tidy and encourages people across the UK to pick up litter and help protect the environment.
Featured image - Northern
Rail industry leaders are set to meet at this years TransCityRail North event to discuss and debate the key issues in rail in the North, for more information click here.