A significant report from the High-Speed Rail Group has been published today and details how the environmental team working on HS2 are delivering connected, climate-resilient habitats at a new scale, raising ambition for future infrastructure projects.
The report, High-Speed Rail and Nature Networks: Connecting People, Connecting Wildlife, sets out why high-speed rail plays a central role in moving our transport systems towards biodiversity net gain, and how HS2 is 'Britain's largest environmental project.'
In the report, it states that HS2 is as much as "environmental" project as a transport and economic one. You are likely to find environmental professionals working on the route as engineers, with the project creating more green jobs than any other.
It also details that there will be unavoidable visible impacts at this stage of HS2's construction, just as there have been with other infrastructure projects like HS1, the string of nature reserves that have since grown up along it shows how building railways can go hand-in-hand with nature restoration.
HS2's flagship 'Green Corridor' takes these ambitions to the next level, restoring and enhancing habitats and delivering ecological connectively at the landscape scale.
The report finds that besides connecting nature, HS2 will be essential in connecting people to nature. Post-pandemic, more people are expected to want to access larger and wilder areas by sustainable transport.
Besides providing capacity, an extended high-speed rail network could catalyse wider public transport upgrades, such as improving the case for reopening the Borders Railway to Carlisle.
Independent consultant Ralph Smyth, who petitioned Parliament on the climate change impacts of HS2 and who authored the report, commented: "Ever since HS2 was first proposed, the climate case to shift travel from air and road to rail has been compelling. This report highlights the less known benefits of rail to move our transport system away from harming wildlife towards biodiversity net gain. Although there will inevitably be negative impacts from constructing a scheme the size of HS2, impacts that are important to minimise, in the longer term we should see major benefits.
"Having petitioned Parliament about HS2's environmental impacts, it was fascinating to be able to interview the environmental professionals surveying, designing and creating new habitats. Their story has simply been untold so far. In its first decade, HS2 has pioneered new approaches from biodegradable tree guards to monitoring impacts on ancient woodland soil for up to fifty years.
"Companies and infrastructure operators across the world are upping their game. For HS2 to live up to its ambition of being the most sustainable railway of its type in the world, it must continue to build on its successes. It is vital both HS2 and the supply chain share what they are learning to other projects."
Dyan Crowther, CEO of HS1 Ltd, said: "The HSRG's report is critical to understanding the role that high-speed rail systems can play in protecting and enhancing biodiversity. As the Green Gateway to Europe, HS1 offers a more environmentally friendly alternative to cars and planes, helping consumers significantly reduce their carbon footprint while still enjoying safe, fast and reliable travel.
"The recent launch of our Sustainability Strategy not only aligns with HSRG's report into biodiversity and nature but means we are able to showcase our industry-leading sustainability credentials, as we pave the way to becoming the first railway to run entirely on renewable energy.
"We are committed to green energy, zero waste and maintaining a healthy and diverse natural environment for the crucial protection of lineside habitat. Through work with our partners, Network Rail High Speed and Kent Wildlife Trust, we are able to survey and assess the quality of the habitat on a regular basis, allowing us to make critical improvements to how we manage the natural land along the line."
Jo Hughes, Director in AECOM's Environment business, said: "Having worked on high-speed rail projects for over 30 years, AECOM understands how large infrastructure projects can drive an evolutionary improvement in the standard processes for assessing the impact of developments on nature. The High-Speed Rail Group report documents many of these advances as well as the challenges associated with high-speed rail and nature.
"Every high-speed rail project offers opportunities to monitor both impacts and the effectiveness of mitigating measures. HS2 is not purely an infrastructure project it is also an environmental one, providing employment and training to tens of thousands of ecologists across its delivery lifecycle.
"We must hold ourselves and major programmes to account in our endeavour towards biodiversity net gain. HS2 offers a once in a generation opportunity as both the UK's largest "environmental" project, as well as a transport and economic one."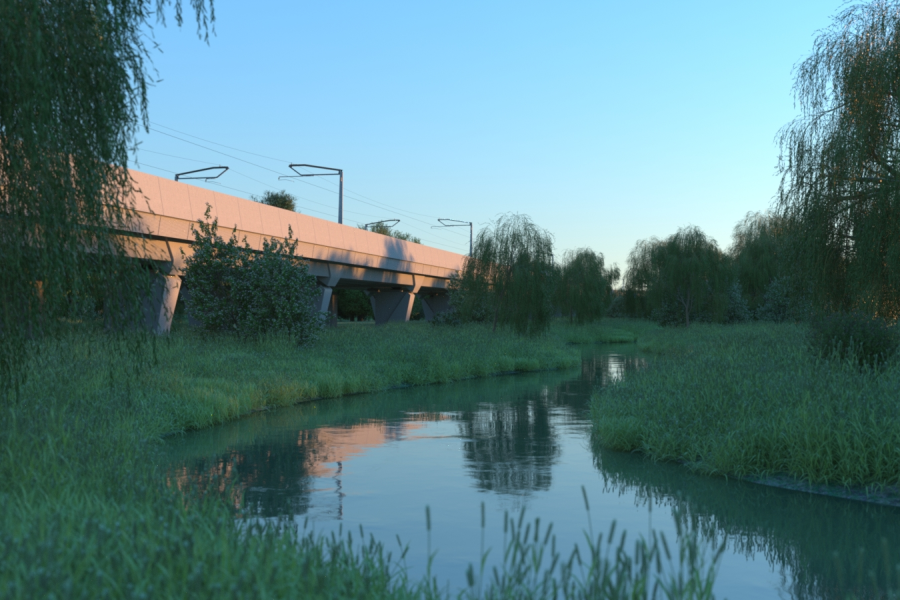 Images: High Speed Rail Group