The Railway Industry Association (RIA) has asked for clarity from the government on key parts of the industry as the Conservative Party conference gets underway.
In a statement, the trade body has set out four key asks from the government, including clarity on HS2, a commitment to pipeline certainty, a commitment to low carbon rolling stock and to bring forward fleet orders. They have also asked for delivery of the long-promised rail reform.
Rail passenger numbers have regularly hit 100% of pre-Covid levels and are on average, 15% higher since HS2 was first approved. With rail passenger numbers increasing, the RIA are asking for legislation to be included in the forthcoming King's Speech which will enable the full delivery, arguing that now is the time to push forward with the planned Phase 2 from Birmingham to Manchester, rather than scrap it.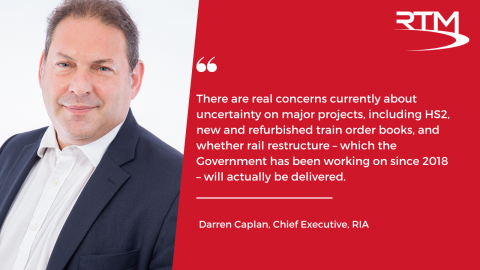 RIA are also asking for further clarity on other large rail infrastructure projects. Projects like Northern Powerhouse Rail, Midlands Rail Hub and Crossrail 2 are still in limbo and the RIA are asking for a visible pipeline of investment which it believes will keep costs down and renew confidence within the sector.
Darren Caplan, RIA chief executive said: "There are real concerns currently about uncertainty on major projects, including HS2, new and refurbished train order books, and whether rail restructure – which the Government has been working on since 2018 – will actually be delivered.
"This is worrying, not just for rail suppliers, rail clients and customers - both passengers and freight - but it also damages the UK's reputation for those who might want to invest in UK plc."
The RIA have also asked to ensure the proposed Transport Bill that the Government hopes will drive rail restructure reform is also include in the Kings Speech in November.
The government has been tight-lipped recently on when the proposed Transport Bill will become legislation.
"UK rail has the potential to help the Government deliver on its agenda to grow the economy, boost jobs and skills, level-up, and decarbonise. But to do this, it needs certainty about the structure of the railway industry and the work pipeline – both infrastructure and rolling stock related – for the months and years ahead", Caplan said.
The Conservative Party conference is currently taking place in Manchester and will run until Wednesday 4 October.
Photo Credit: Istock