The Railway Industry Association's (RIA) final Unlocking Innovation series of 2020 is focusing on the Light Weight and Low-Cost Railway, examining the latest innovations, exciting projects and the future of light rail systems.
The events, as part of RIA's prominent Unlocking Innovation programme, are being held in collaboration with RIA's partners Network Rail R&D portfolio and the UK Rail Research and Innovation Network (UKRRIN).
Day one of the webinar series was all about the newest innovations in the tram and light rail systems and heard two elevator pitches on new products.
Their first speaker was Chief Executive of Rail Forum Midlands, Elaine Clark, who began the event by speaking about the Rail Supply Group's (RSG) pilot to 'lightweight' rolling stock in the UK.
Their trial, which launched this summer, has brought together leading OEMs Hitachi, Bombardier and Siemens as well as ROSCO Porterbrook, with SMEs, in order to converse innovative new ideas to reduce the weight of trains. Elaine detailed that the RSG has purposely been ambitious with the aims for the pilot, with any area for potential weight reduction in scope.
So far, the pilot has included 31 SMEs, five universities and two research centres working together on 13 separate pitches. Through Dragon's Den-style sessions in October & November, these SME partnerships have had the chance to pitch new ideas directly to the clients.

Elaine was clear that the project has been a "good start" to bring new solutions and ideas directly to the OEMs and the ROSCOs, although was realistic that there is some way to go. She highlighted that while the real priority is to get innovations onto vehicles on the railway, it is vital to be aware of overarching issues in the sector.
Next, RIA welcomed the head of light rail trade body UKTram, James Hammett, who gave an overview of the huge range of innovations in the light rail sector. He began by discussing the organisation's work with the Government to keep services running during the Covid-19 outbreak, but they are now looking to the future, of which developing new products and services are key.
James also praised the flexible nature of light rail systems, allowing projects and systems to implement new products quickly. Many of these new technologies have been focused on improving safety and risk management – in large part due to the tragic 2016 incident at Sandilands Tram Station in Croydon. For example, UKTram has developed a Tram Accident and Incident Database, which is now being run with LRSSB to collate data in real-time on near misses and incidents on the network.
During his presentation, he also spoke of the sector's work to develop a simulator training control-room to replicate incidents such as power outages, as well as 'heat mapping' travel loadings to improve journey planning, a tool which has proved effective on the Birmingham Metro. James ended with a clear call to the industry: "If you've got an innovation, bring it to us."
The third talk came from the University of Birmingham's Dr Stuart Hillmansen, who discussed the work of EneRail, a spinout company from the university, developing and rolling out driver and energy optimisation strategies for tram systems. The strategies are based around algorithms to map out the optimal braking and acceleration points, ideal modes and provide driver feedback on a particular route, as well as delivering training to drivers.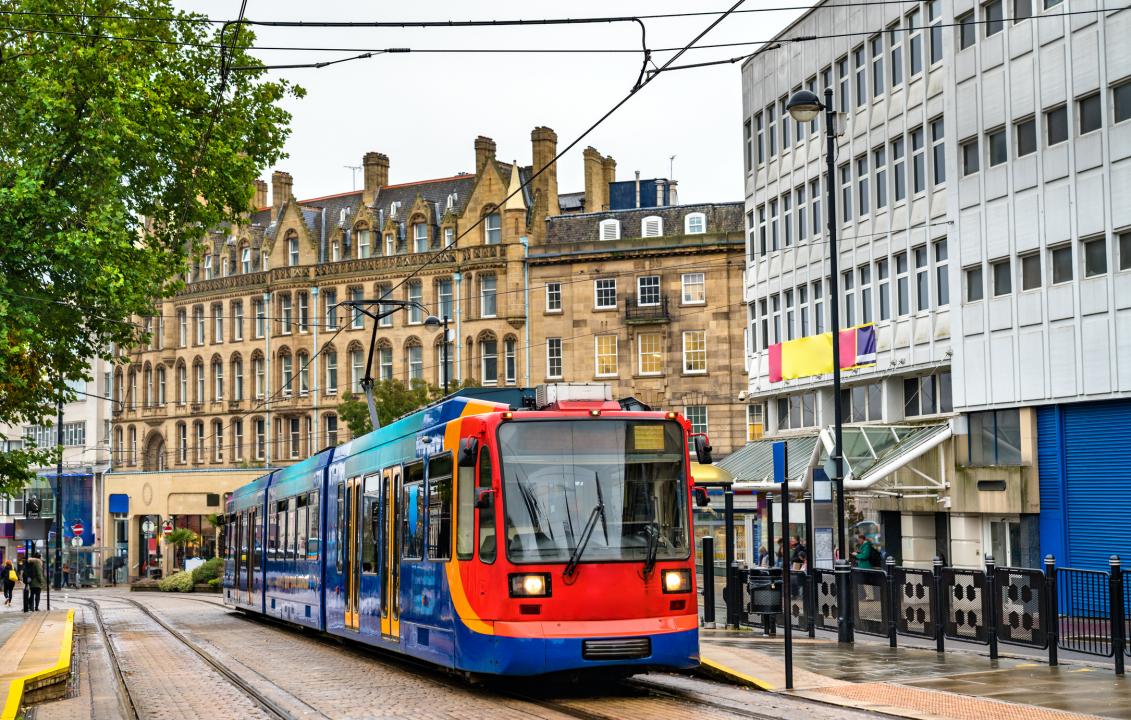 Dr Hillmansen emphasised the simplicity and low-cost of their Driver Advisory System (DAS), which advises the driver on which mode the vehicle should be in, target speed and the countdown to change modes. In tests, the strategy has demonstrated energy consumption savings of between 11-20%, depending on the route, and showed to drivers that most light rail vehicles can coast for up to 700m. Specifically, EneRail's DAS has the potential to deliver cost savings of 17% for tram operators. To evidence this, he mentioned two case studies from Scotland and Taiwan. 
The first session ended with two Elevator Pitches. The first came from Mott Macdonald's Maxime Stagnitto, who gave a short presentation on their MM TRAIN rail and transit performance simulator. The second came from Steconfer's David Bailey, who showcased their work on the Msheireb Downtown Doha Tram project.
All are welcome to join Unlocking Innovation for day two which will hear from the Coventry City Council on their Light Rail Project, Network Rail on their Light Rail Group and more leading innovators in this area.
Later in the week, the Unlocking Innovation events will cover the DfT's Restoring Your Railway Fund and hear about local initiatives led by BCIMO and WMG.
You can register on RIA's website here.