Siemens Mobility and CSX, have announced an expansion of their partnership to develop and implement digital solutions for freight rail. The collaboration will allow CSX to optimise its rail traffic by leveraging Siemens' Controlguide Core Dispatch System (CDS) and Siemens Rail Traffic Network Optimization Solution, TPS.live.
Controlguide CDS will allow CSX continuous access and visibility into its operations and will aid route optimisation and provide quicker decision making in its network rail operations.
As well as Controlguide CDS, Siemens will be implementing TPS.live, allowing CSX to improve its operational efficiency and ultimately reduce costs. It uses advanced algorithms to optimise[JD1]  train schedules and routes, taking into account factors such as track capacity, train movement, and customer demand.
"We are proud to partner with CSX to bring the latest in digital technology to freight rail in America," said Tobias Bauer, president of Rail Infrastructure, Siemens Mobility North America.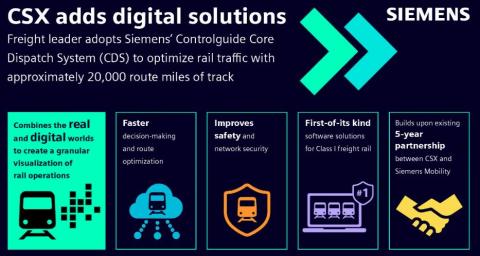 "This operation is simply a continuation of the great partnership between Siemens Mobility and CSX. Together, we have successfully implemented our Back Office Server Product to support CSX's PTC operations and our TPS.live product, which will support CSX with the optimisation of their rail network traffic, into CSX's operations over the next five years. The Controlguide CDS will not only improve CSX operations and enhance their sustainability initiatives by reducing fuel, but it will also enhance the safety of freight operations."
"CSX has a long history of pioneering advanced technology to move our business – and our customers – forward," said Carl Walker, vice president of Engineering at CSX.
"Our partnership with Siemens Mobility allows us to unleash the full potential of cutting-edge software solutions that help transform our operations to improve safety, service, sustainability and efficiency. Together, we are steering the future of rail transportation towards unparalleled efficiency and innovation."
It is a first-of-its-kind software solution for freight in the United States and it is hoped that it will be rolled out further across the continent if successful.
Photo Credit: Siemens Mobility