Siemens Mobility has won a framework agreement to deliver up to 540 single-deck electric multiple-unit trains to Austrian Federal Railways (ÖBB). The agreement has a term of 10 years and a value of more than €5 billion.
The trains will be based on Siemens Mobility's Mireo platform, which is a modular system that can be adapted to meet the specific requirements of different operators. The Mireo trains are known for their low energy consumption and lightweight construction, which make them environmentally friendly and efficient.
The trains will be used for both long-distance and local transport in Austria. They are expected to be in service from 2028.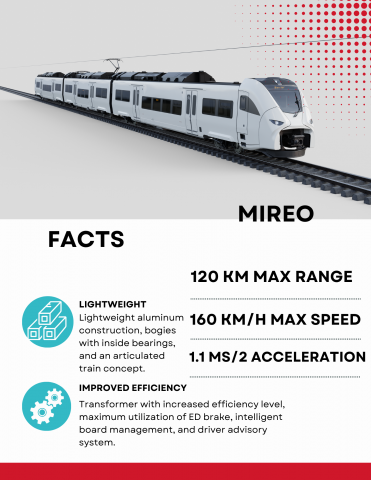 Michael Peter, CEO of Siemens Mobility, said: "We are proud to have been awarded this important contract by ÖBB. The Mireo platform is a proven and reliable solution that will help ÖBB to further improve its rail transport services.
"Siemens Mobility and ÖBB have long enjoyed a strong and trusting partnership. We are proud to be delivering a further development of the Mireo platform to ÖBB for the company's new fleets. With numerous innovations, low energy consumption, and a high level of passenger comfort and convenience, the new Mireo trains will help make ÖBB's local and regional transport even more attractive."
ÖBB is currently investing heavily in its train fleet. In addition to the new Mireo trains, the company is also renewing its Railjet and Nightjet fleets. The total value of these investments is €4.7 billion.
In 2022 ÖBB awarded Stadler a €3bn framework contract for the supply of up to 186 Kiss double-deck EMUs, and in July this year the Swiss company was selected for a €1·3bn framework covering the supply of up to 120 Flirt Akku battery-electric multiple-units to replace diesel traction on partly-electrified routes.
The Mireo platform has several innovations which has made it a popular train set across Europe, with hydrogen, hybrid and electric versions all operating across the continent.
Image: Siemens Mobility