The scene was set in Birmingham. Leaders, innovators and decision-makers packed the room. With conversations flowing and business insights being shared, TCR Midlands 2022 announced its return to the UK's second city in style.
A fascinating day of speakers saw those in attendance hear from the likes of HS2 Minister Andrew Stephenson MP and HS2 Ltd's Senior Supply Chain Manager, Robin Lapish, about the plans and opportunities on the horizon for the region.
Elsewhere, Network Rail's Neil Gaskin - the 2022 Commonwealth Games Lead - opened the prestigious event, and Sandeep Shingadia offered real insight into the work being done by Transport for West Midlands.
Panel debates throughout the day, covering everything from station sustainability to cross-regional collaboration, offered further insights and involved the audience, directly answering the questions those in attendance had.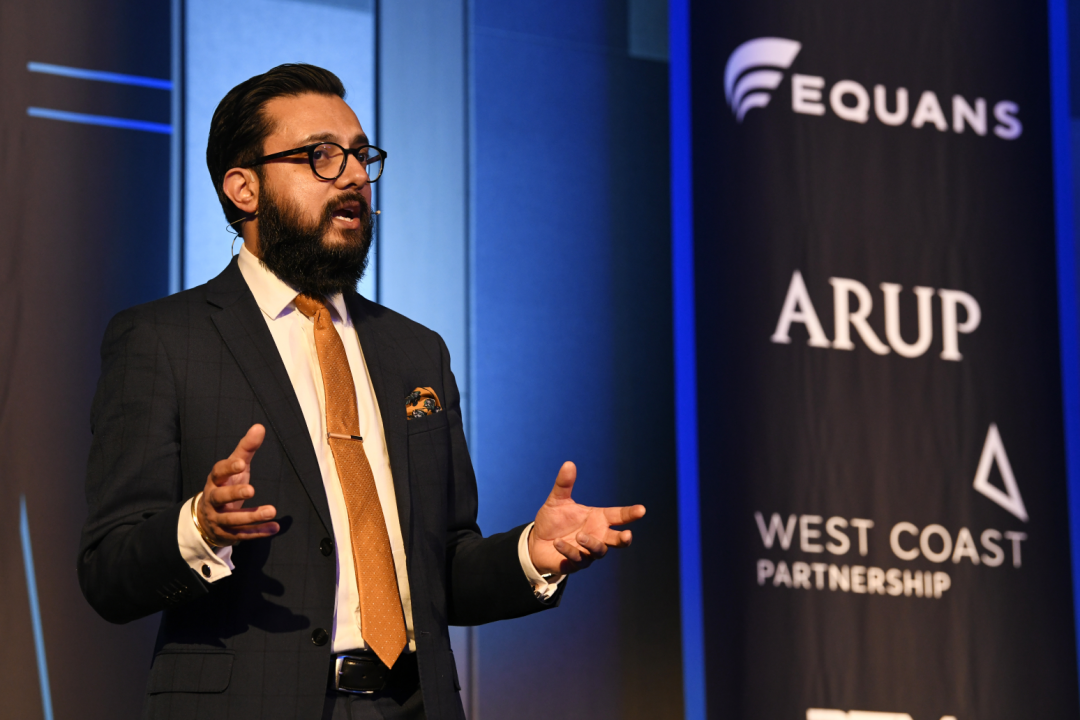 Sandeep Shingadia, Director of Development & Delivery at Transport for West Midlands (TfWM) speaks at TCR Midlands 2022.
Speakers represented the full compliment of organisations we see around the UK and Midlands rail sector, from Network Rail and Rail Delivery Group through to RSSB, Avanti West Coast, Midlands Connect and the Confederation of British Industry (CBI) and the supply chain.
With the conversations steered by host and broadcaster Helen Fospero, there was plenty of information and excitement for delegates at Birmingham's Vox Conference Centre to absorb.
If it was a fountain of industry knowledge on the stage, with the exhibition space offering a veritable gold mine of innovation and opportunities for in-depth, in-person conversations and demonstrations.
Members of our supply chain showcased their services and solutions, making valuable contacts and kickstarting conversations which are continuing at pace post event we've learnt from the feedback provided by the delegates in the post event survey and the many emails we've received congratulating us on delivering an outstanding event.
"TransCityRail set the high-bar for events of this nature. Highly recommended."
Nick Woodrow, Operations Director at Raildairy
Falling inside of the UK's National Apprenticeship Week, the TCR team made the decision to allocate a number of tickets to apprentices from the sector free of charge; giving some of our industry's next generation a rare, valuable opportunity to network shoulder-to-shoulder with the key decision makers in rail in the Midlands.
A lively panel debate at TCR Midlands 2022.
Finally, after a successful day of collaborating, connecting and conversing, many of the same and new faces came together for a slick, black-tie evening dinner.
With a fascinating keynote speech by West Midlands Rail Executive (WMRE) Executive Director, Malcolm Holmes, and a following panel discussion which also brought into the conversation Midlands Connect, HS2 Ltd, Siemens and Network Rail, there was plenty for the audience to take in.
Freshly enthused about the future of rail investment in the Midlands, those attendees were then encouraged to connect and network with one another over food and evening festivities.
Almost unanimously praised as a highly-organised industry event (99%), TCR Midlands 2022 was the place to be when it came to the future of Midlands rail – and another proud success for the TCR team.
Want to attend a future TCR event? Find out more on the TransCityRail website here.