Northern and Transport for Greater Manchester (TfGM) are changing the game of accessibility as they have officially opened a new, first of its kind accessible toilet at Guide Bridge station.
This comes as part of a project to install 83 fully accessible toilets at stations across Manchester throughout the next three years, offering passengers world leading technology and features that will improve their journey experiences and ensure rail travel across Greater Manchester is for everyone.
The multi-million-pound project will support the further refurbishments to many existing toilets, whilst also introducing the innovative new facilities within stations or, in some cases, the installation of stand-alone toilet pods.
Designed by Seed Architects, alongside accessibility and disability (including hidden) groups, these lavatories have incorporated feedback and expertise to ensure that all passenger needs will be accounted for.
Safety concerns within the project have been addressed through access being granted via a radar key, a train ticket QR code or video access linked directly to Northern's 24hr customer contact centre. Intercoms will also be fitted, linking users to staff if needed whilst also providing people with automated audio description of the toilet and the room upon entry, detailing where certain facilities are and how to use them.
Further safety contingencies have been implemented, such as the inclusion of a unique scream' alert which detects when someone shouts out in distress and immediately connects them to emergency support. There is also a scanning system that detects when an individual enters and will send out an alert response if after a period of time no user activity is detected within a certain time frame.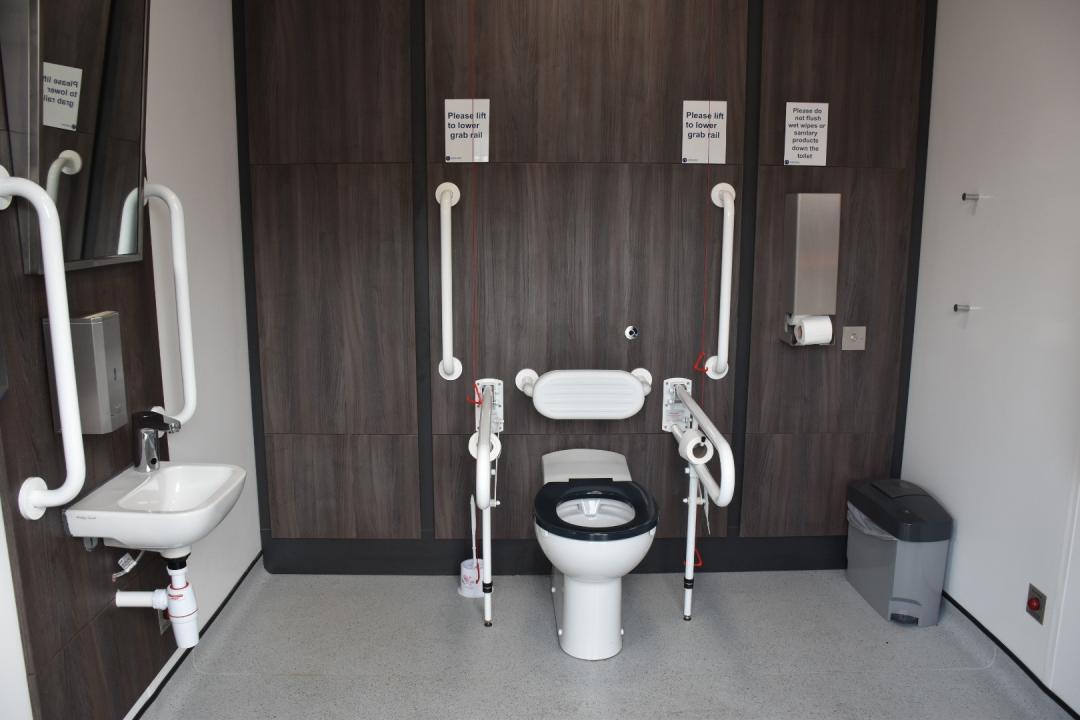 A total of 20 brand new toilets will be in operation within a year with a further 63 scheduled to be built and opened by 2025.
Simon Elliott, TfGM's head of rail programme, said:
 "The provision of these state-of-the-art toilet facilities at Guide Bridge marks a major investment, and a significant step forward, in making rail stations across Greater Manchester more accessible.
"A major focus of our vision of the Bee Network is making public transport fully accessible, and by providing these facilities we want to encourage more people to choose public transport as a way of getting around the region.
"However, with 55 out of 96 stations in Greater Manchester still not fully accessible, we recognise that much more work needs to be done to improve this offer, and we will continue working with operators and industry partners to make rail and other modes of public transport accessible to all."
The pod-based toilets are incorporating environmentally friendly manufacturing processes and materials such as the cutting-edge Glass Reinforced Fibre (GRF) technology which is made through littered disposable bottles from the sea. This is then transformed into a strong and robust building material. Each individual pod will be responsible for removing over 2,000 plastic bottles from the ocean, making the toilet infrastructure itself fully recyclable when they reach the culmination of their operational lifecycle.
Where station building facilities aren't available, specifically designed 1.5tonne 'lift and shift' modules, like at Guide Bridge, will be installed and these can be disconnected and moved to new locations as needed and as and when the railway estate changes.
Chris Jackson, regional director at Northern said:
"We are delighted to have worked with Transport for Greater Manchester and our other partners to introduce these modern and brand-new accessible toilets.
"Not only do they provide fantastic facilities for everyone on our network in Greater Manchester, but they are packed full of innovations, safety measures and technology that helps and protects rail passengers whatever their needs.
"The new toilets at Guide Bridge and Bolton are now operational and we look forward to introducing them across our Greater Manchester stations in the near future."
Northern are now working with other train operators and other local authorities across the network in the north, to identify where these innovative accessible toilets can be installed.
Want to know more about the opportunities to become a key supplier to the UK rail industry? Attend TransCityRail and access an exclusive marketplace of buyers from Network Rail, HS2, Train Operators, Major Contractors, and all other tiers of the supply chain. For more information and to secure your place click here.