The Transpennine Route Upgrade (TRU) has revealed its strategy for delivering on its multi-billion programme.
The multi-billion-pound railway programme will deliver major upgrades on the 70-mile route between Manchester and York. Once completed, a journey between Manchester and Leeds will be cut to 40 minutes as well as better connecting towns with a more reliable railway.
Once completed, it is hoped It will also slash carbon emissions by enhancing the natural environment surrounding the route and during construction, mitigating negative environmental impacts.
Alongside the upgrades to the track, TRU will create 4,000 new roles during the construction period with 60% of the workforce being employed within 25 miles of the route and 80% within 40 miles.
TRU will create 4,000 new roles during construction with 60% of the workforce are being employed from within 25 miles of the route and 80% within 40 miles.
Rail minister Huw Merriman said: "Sustainability is at the heart of the Transpennine Route upgrade - delivering faster and more reliable electrified services in the North in a way that's also better for our environment."
"I welcome the launch of today's strategy and am proud to see the transformational benefits of the upgrade coming to life by creating new jobs and opportunities while slashing carbon emissions across the region."
Anna Humphries, head of sustainability and social value for the Transpennine Route Upgrade, said: "The Transpennine Route Upgrade's sustainability strategy is clear in our vision for the North of England. We're delivering not just a railway that will be faster, cleaner and provide more seats, but we're putting the sustainability and social value delivery of the programme at the heart of all we do."
The upgrades will use cutting-edge technology but also aim to deliver £4.26 billion in social value including £715 million worth of goods and services from local businesses within a 25-mile radius.
The programme will also deliver environmental benefits such as: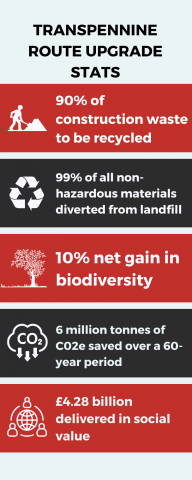 Rob Warnes, Strategic Development Director at Northern Trains said:
"The Transpennine Route Upgrade will be transformative for our customers, enabling us to run greener, faster trains and slash our carbon emissions.
"The programme is creating jobs here at Northern, as well as in our supply chain and across the North of England, offering our towns and cities a much-needed economic boost."
Want to know more about the opportunities to become a key supplier to the UK rail industry? Attend TransCityRail and access an exclusive marketplace of buyers from Network Rail, HS2, Train Operators, Major Contractors, and all other tiers of the supply chain. For more information and to secure your place click here.