UK Transport Secretary, Mark Harper MP recently met with the Railway Industry Association (RIA), debating issues that are currently facing the industry. The meeting which was held in Glasgow and formed part of the Scottish Conservatives conference included discussions on investment, engagement and reforms.
Mr Harper spoke of the need to deliver on reform and a smoother process for investment, echoing his comments when launching his reform plans in February.
Chief Executive of RIA, Darren Caplan said: "Clearly now is a significant time for the railways, with a number of industry-related items to deal with in the Secretary of State for Transport's in-tray, including rail reform, making investment more certain and visible, decarbonising track and train, and providing funding for – and delivering – enhancements, major projects, and digitalisation."
Only this week, RIAA and industry leaders issued an open letter to Prime Minister Rishi Sunak, urging to not delay on the planned reforms, with the meeting with Mr Harper welcomed by the association.
"We appreciate Transport Secretary Mark Harper discussing the issues of the day with the RIA.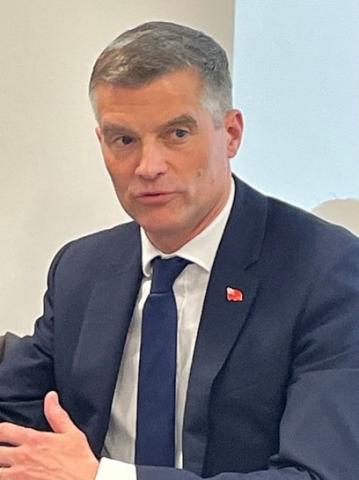 "We hope to make positive progress with him, on a number of fronts, in the weeks and months ahead. This meeting and event were an encouraging start."
This view was echoed by RIA Scotland chair, Merion Thomas, who commented: "We discussed a number of areas on how to take Scotland's railway forward, from investment and decarbonisation through to how to get HS2 trains to Scotland. It was also positive that Mr Harper was supportive of the role rail suppliers can play in ensuring a vibrant railway industry."
Other attendees at the meeting and panel discussion included Secretary of State for Scotland, Alister Jack alongside shadow Scottish transport minister Graham Simpson and transport correspondent, Alistair Dalton.
Want to know more about the opportunities to become a key supplier to the UK rail industry? Attend TransCityRail and access an exclusive marketplace of buyers from Network Rail, HS2, Train Operators, Major Contractors, and all other tiers of the supply chain. For more information and to secure your place click here.