Network Rail has successfully completed the reliability upgrades on the line between Tunbridge Wells and Hastings, seeing the culmination of a nine-day project, with the line resuming passenger transport yesterday.
The engineers responsible for the delivery of the scheme worked both night and day throughout the closure period, maximising efficiency and completing a series of vital upgrades that will facilitate a safe and reliable service, futureproofing it for the upcoming decades.
These works saw the vital replacement of the existing track slab inside Mountfield Tunnel near Robertsbridge, a structure that has been in use since the 1970's. The new track slab, which has been reinforced with four tonnes of metal bars, has been installed alongside 900 metres of new, specially coated track.
Additional to the track slab replacement works, further upgrade works were completed alongside vital surveying, monitoring, and general maintenance to replenish and rejuvenate the reliable running of the railway.
Up to five kilometres of new track has been laid at Robertsbridge (2160m) and at Crowhurst (2592m) while Frant has seen the building of reinforced concrete walls as a preventative measure to avoid trees and soil reaching the tracks.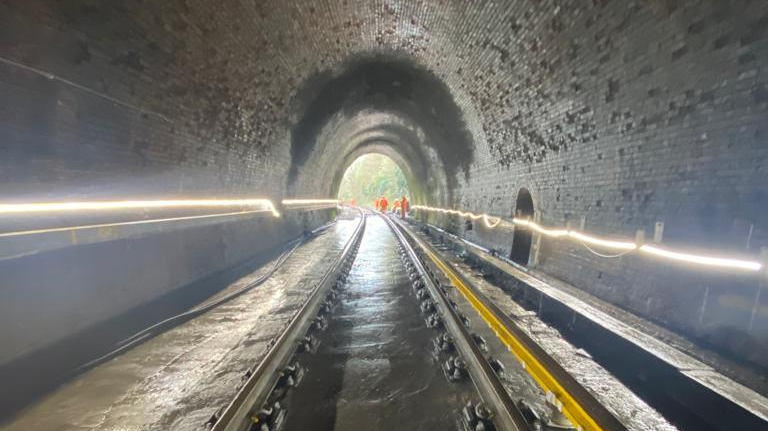 Sections of the line near Snape Wood saw 230 five-metre-long soil nails driven into the cutting with 600m2 of wire mesh to stop material falling onto tracks below.
Fiona Taylor, Network Rail's Kent route director, said:
"It's really pleasing our teams have completed this vital upgrades and handed back the line on time as planned.
"Our engineers have worked really hard these past nine days completing a wide range of improvements including laying new track, installing soil nails and wire meshing to shore up embankments and built reinforced concrete walls to prevent material falling onto the track and disrupting services.
"There is never a good time to shut the railway but completing the work in an extended closure means that we avoid causing more disruption to customers by having to close the railway over a series of weekends.
"I would like to thank customers and local residents for their patience and understanding while we have completed these essential works."
The line itself dates back to the Victorian era of the 1850's, meaning that regular repairs and upgrades are necessary to ensure that the old infrastructure is able to cope with modern renovations and service demands. The geographical location also lends itself to damages as the line is built through hilly and challenging terrain, flanked by steep embankments which has contributed to landslips when extreme weather has hit.
The works completed during this period represents the third and final line closure, seeing the culmination of a two-year programme of reliability and resiliency upgrades.
Scott Brightwell, Southeastern's operations and safety director, said:
"We want to thank all our customers for their patience and understanding while Network Rail carried out this vital work over the last week.
"Now that the work's finished, our customers will return to an improved railway on this part of our network."
Want to know more about the opportunities to become a key supplier to the UK rail industry? Attend TransCityRail and access an exclusive marketplace of buyers from Network Rail, HS2, Train Operators, Major Contractors, and all other tiers of the supply chain. For more information and to secure your place click here.