Prime Minister Boris Johnson has unveiled plans new for travel and transport around the UK in the Union Connectivity Review. With actions being put towards building a rail tunnel from Northern Ireland to Scotland, something which would replicate the Channel Tunnel. 
The radical proposal hopes to boost transport links between the four nations of the UK, a move aimed at saving the Union and according to synopsis "maximise economic potential and to improve quality of life".
The interim report which was published this afternoon is to recommend a study into the viability of a tunnel connecting Great Britain and Northern Ireland.
The tunnel has been described as a "vanity project" by critics of Boris Johnson, who initially suggested a bridge linking the two islands. Johnson said he wanted to "build back better" after the coronavirus crisis in a way that brings "every corner of the UK closer together".
The review is to be led by Sir Peter Hendy as independent chair of the Union Connectivity Review. Being former Commissioner of Transport for London and present chair of Network Rail, Sir Peter has been a longtime-ally of Johnson back to when he was Mayor of London.
With the aim to address inequality between the nations and external economic impacts, such as Covid-19 and the UK's departure from the European Union Sir Peter said in his statement: "Transport alone cannot resolve these issues, but it is the most effective enabler of an effective growth strategy"
"The ability to move people and goods across the country is vital to the success of business, the growth of regional economies, and access for people to jobs, housing, education and health services, so good transport connections are needed to ensure that regions across the UK are able to maximize their potential."
In regards to the cost experts have suggested £15bn might be required for the project but others have said that £20bn would be a conservative estimate and if it was to come into existence, it would connect from Portpatrick to Larne
However, the announcement of project has attracted much criticism on both sides the Irish sea. Irish politician and Deputy Prime Minister shared her thoughts on Twitter.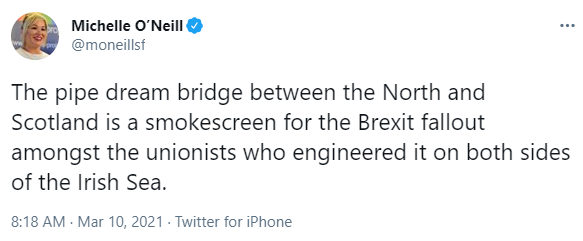 While Scottish Transport Minister Michael Matheson, said the Scottish Government already has its own "robust process" for considering future transport infrastructure projects, and he claimed Westminster's Union Connectivity Review is "a systematic attack on the Scottish Parliament's powers – a power-grab that fundamentally undermines devolution".
He added the cost could be up to £50bn, which would "suck financial resources away" from other transport infrastructure projects and the wider economy. In a Scottish Parliament's Rural Economy and Connectivity Committee meeting on Wednesday.
Transport Secretary Grant Shapps said: "As we build back better from Covid, it is more important than ever that we level-up every corner of our great country.
"Quality transport infrastructure is key to achieving that, which is why we are committed to boosting connectivity and bringing communities across the UK even closer together.
On the back of the recent budget announcements by the chancellor and todays further publication of the Union connectivity Review. In addition to the ongoing roadmap to the end of lockdown by the prime minister, there is definitely more to come in regards to this conversation and how this review will come into fruition.