Cross River Partnership (CRP), a non-profit and impartial partnership organisation, has launched research into the economic, environmental and community benefits of a new freight hub at Waterloo Station.
The research, commissioned in collaboration with Network Rail and the Great British Railways Transition Team (GBRTT), shows the many positive impacts of increasing rail freight coming into Waterloo Station, supported by zero emission onward road journeys across the whole of London.
The Waterloo Freight Hub is planned to support London's economy and environment by bringing more freight into central London via rail rather than via road. Existing undercroft space at Waterloo Station would be used to receive, sort and re-issue the rail freight outwards across much of London, servicing some 3.5 million people and 200,000 businesses.
CRP is working with Network Rail, GBRTT and other partners to start using some of the Waterloo Station undercroft space for freight as soon as possible, with 2024 initially mooted. The Waterloo Freight Hub will be aiming to handle clean road freight only, with a view to adding in larger volume rail freight later on, once all operational arrangements have been finalised.
Given its key locations, it is expected that rail freight could come into the Waterloo Freight Hub from origins including Southampton and the Midlands.
The demand for a freight hub in the capital is driven by the Courier, Express and Parcel (CEP) market, which is growing significantly, particularly driven by a demand for faster, convenient and more efficient deliveries, and a higher percentages of retail sales now made online due to a booming ecommerce industry.
Currently, just 1% of the rail freight transported on the UK's rail network is from Courier, Express and Parcel market.
Multiple rail and road-fed freight deliveries into the Waterloo Freight Hub could be a way for supporting the CEP industry during a phase of high growth, and this could have huge positive impacts.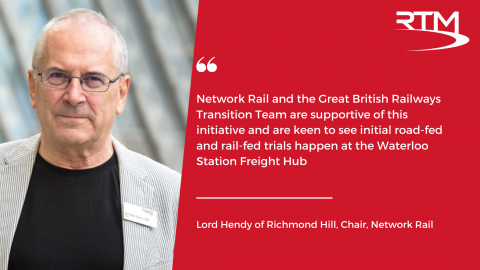 The Waterloo Freight Hub will involve a large number of partners, including Network Rail, GBRTT, the London Borough of Lambeth, local communities, local Business Improvement Districts, regional government agencies, expert transport consultants, freight operating companies, couriers. All of these will be co-ordinated by Cross River Partnership.
The initiative is being spear-headed through CRP's Defra-funded Smarter Greener Logistics programme, and Network Rail's chair, Peter, Lord Hendy of Richmond Hill, is supportive of this project, commenting: "Network Rail and the Great British Railways Transition Team are supportive of this initiative and are keen to see initial road-fed and rail-fed trials happen at the Waterloo Station Freight Hub.
These trials will ensure that Network Rail and the Great British Railways Transition Team are taking an evidence-based approach to delivering environmental sustainability projects and ensuring that we share best-practice from this innovative project across London."
With the ecommerce market booming, there could be up to 1 billion parcels delivered each year by 2030 in London, over double what is currently being delivered now.
It is anticipated that the Waterloo Freight Hub could help release much-needed space for logistics, and will play an important strategic lever for green growth around Waterloo, Lambeth and across London.
Photo Credit: iStock