The West of England line will be closed for five days between Yeovil Junction and Axminster in November, followed by a 16-day closure between Salisbury and Yeovil Junction in December, for essential maintenance work.
The first closure will take place from Monday 6 to Friday 10 November, during which time engineers will be working around the clock to complete key upgrades at four different worksites.
At Crewkerne tunnel, engineers will be continuing efforts to stabilise the cutting following a landslip in October 2021. Specialist six-metre-long soil nails will be drilled into the earth just outside the tunnel entrance, as well as the installation of new drainage to help reduce the impact of heavy rainfall.
Other work includes replacing the barriers at Broom and Axe level crossing, painting Weycroft River Bridge with a protective, anti-corrosion paint, and removing wet beds (areas of waterlogged track stones that cause rough rides for trains) at Crewkerne level crossing.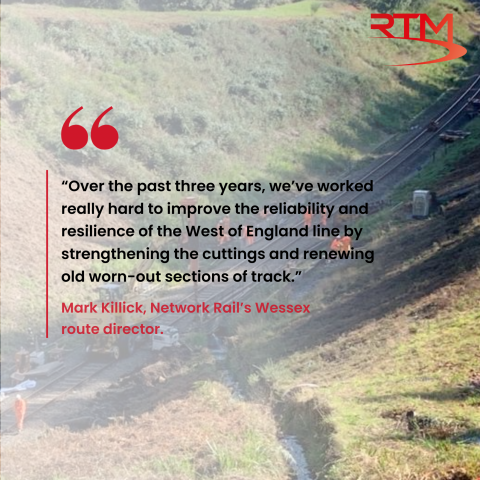 The second, 16-day closure between Salisbury and Yeovil Junction will take place from Saturday 25 November to Sunday 10 December.
Around 1280m of track between around Tisbury and Sherborne and 457m of track running through Gillingham station platform one will be replaced and then recycled. Engineers will also be clearing vegetation between Tisbury and Gillingham, completing level crossing maintenance at Wyley and Castleton level crossing and stabilising earthworks by Gillingham tunnel.
Mark Killick, Network Rail's Wessex route director, said: "Over the past three years, we've worked really hard to improve the reliability and resilience of the West of England line by strengthening the cuttings and renewing old worn-out sections of track.
"Next month, this two-part closure will enable our engineers to continue these important upgrades as part of our continued programme of investment on this line. I fully recognise that every time we close the railway it is disruptive for our customers, and we always work hard to find the time when it inconveniences the least number of people.
"These upgrades are crucial for the safe and reliable running of services on the West of England line in the future and I'm grateful to customers for their patience and understanding during this time."
An SWR spokesperson, said: "The closures on the West of England Line in November and December will allow Network Rail to carry out vital maintenance and keep trains running long into the future.
"Between Monday 6 and Friday 10 October, rail replacement bus services will operate between Yeovil Junction and Axminster, with a revised train service from Axminster to Exeter St Davids.
"While the line between Salisbury and Yeovil Junction will be closed between Saturday 25 November and Sunday 10 December, customers will still be able to travel on our services between London Waterloo and Exeter St Davids, as services will be diverted via Westbury.
"Rail replacement bus services will be in place for customers travelling to Tisbury, Gillingham, Sherborne and Templecombe. Customers are also advised that services between London Waterloo and Salisbury, Basingstoke and Salisbury, Yeovil Junction and Exeter St Davids, and Reading and Salisbury, will all be altered over these 16 days."
Photo Credit: Network Rail