West Midlands Rail Executive, the local authority owned body responsible for rail in the West Midlands region has published its revised Rail Investment Strategy, setting out long-term plans to deliver a rail revolution for the West Midlands.
The Strategy includes proposals for the delivery of the Midlands Rail Hub and new railway stations.
Several projects are currently in development, including five new stations in Birmingham - Three on the Camp Hill Line and two on the Walsall to Wolverhampton Line. Alongside this, the redevelopment of two major regional hubs at Coventry and Wolverhampton and the redevelopment of University and Perry Barr Stations are all underway.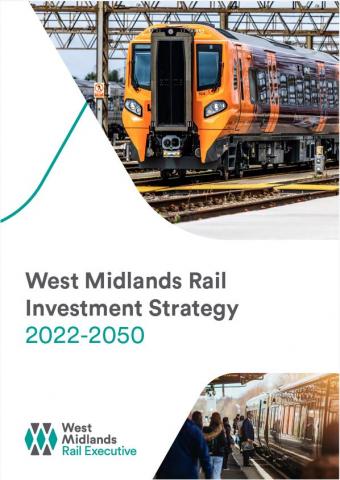 The revised strategy also sets out eight strategic objectives, including supporting the recovery from Covid-19, contributing to net zero, and delivering the Midlands Rail Hub.
2030 delivery target for Midlands Rail Hub
Andy Street, Mayor of the West Midlands and WMRE chair, said: "Rail has an absolutely central role to play in our region's success. New rail links and stations generate jobs for local people and prosperity for local communities. At the same time – by providing a sustainable car alternative – rail helps us to tackle the climate emergency and meet our #WM2041 net zero commitment."
Cllr Peter Butlin, WMRE's accountable director for rail infrastructure investment, said: "An enhanced, fit-for-purpose rail network doesn't just benefit the major cities, it helps spread investment and improve the quality of life across the entire wider region from Shropshire and Staffordshire to West Northamptonshire and Warwickshire
"Our regional rail network must have the future capacity and capability required to meet future demand for travel and provide access to employment, education, healthcare and leisure opportunities for all of our citizens."
The revised plans include;
The Midlands Rail Hub will be delivered by 2030, creating additional capacity for more services across the region.

New stations will be built at Burton, Lichfield and Aldridge

Spare line capacity on the West Coast Mainline will be used to improve local and regional services between Birmingham and Rugby.

All lines will be electrified by 2040.

The Strategy will also focus on improving integration with other transportation modes, improving rail network accessibility, and making ticketing systems more efficient.
There were more than 330 responses to the consultation and feedback included a series of key areas such as better integration with other transportation modes, improved rail network accessibility, more efficient ticketing systems and a focus on electrifying all lines.
The paper was welcomed by the Rail Industry Association (RIA), with Milda Manomaityte, RIA Midlands & Eastern Lead commenting, "RIA Midlands & Eastern welcomes today's announcement of the West Midlands Rail Investment Strategy, which strongly aligns with RIA Midlands & Eastern members priorities of having visibility and certainty around major projects delivery, decarbonisation, skills and innovation.
"We continue to call for close collaboration with the supply chain to develop an efficient and affordable rolling programme of electrification, to deliver the HS2 and Midlands Mainline Electrification programmes in full, and to provide the supply chain with full visible timeline of the Midlands Rail Hub programme, among other things."
The Strategy is now out for consultation and will be finalized in early 2024.
Photo Credit: Istock