Construction on a new purpose-built standalone station at Perry Barr in Birmingham has started, following the completion of demolition works of the old railway station.
Work will now be started on the £30m redevelopment, with the new station expected to be constructed over the next 12 months, in time for welcoming visitors to the 2022 Commonwealth Games in Birmingham.
The new station will have increased capacity, offer passengers an improved environment and facilities, and feature a number of key accessibility and quality of life elements, including lift access to the platforms, an improved ticket office, accessible toilets, CCTV security cameras and cycle parking.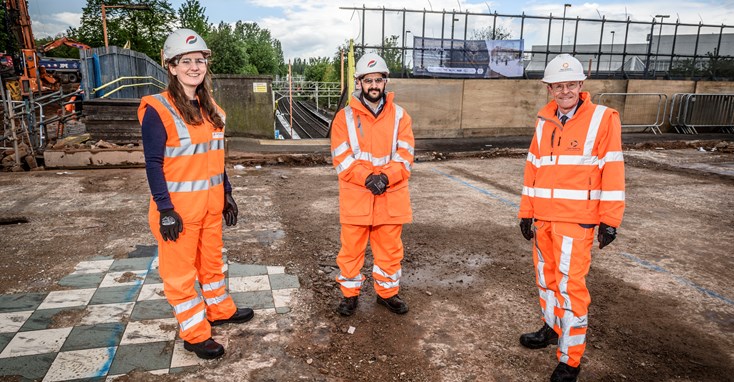 (pictured) Cllr Brigid Jones, apprentice Haroon Sajad and Mayor Andy Street view the progress on the station site
More than 40 people are being employed directly on the redevelopment project, with additional jobs and businesses within the supply chain also being supported.
West Midlands Mayor Andy Street said: "This redevelopment of the eyesore Perry Barr station is long overdue, and I am delighted that just days since being re-elected as Mayor we've been able to get on with the work and tear the old station down. It was a hideous building with poor access for wheelchair and pushchairs, and almost certainly put people off using public transport.
"The new, modern, Perry Barr station will have more space, public toilets, better travel information, and CCTV, to create a far better experience for passengers. Given the station will be a gateway to the Commonwealth Games next year, it is absolutely vital we get this much-needed work done.
"The development is also taking shape just at the right time as we look to bounce back quickly from the pandemic – with jobs being created both on site and in the supply chain. Infrastructure projects such as this are going to be critical to my plans to create 100,000 jobs and employment opportunities in just two years."
The development is being led by Transport for West Midlands (TfWM) and the West Midlands Rail Executive (WMRE) and is taking place alongside the wider regeneration of the Perry Barr area, including a new road layout and thousands of new homes.
The £30m redevelopment funding will also cover improvements to the bus interchange, improving transport links within the region.
Timelapse footage of the old Perry Barr station and attached row of shops being torn down, which was done at night to avoid disruption to rail services still operating on the line, has been released.
RTM will be hosting our annual TCR Midlands event on February 10, 2022, bringing together rail decision makers across the region. Register to attend now.