The next stage of the Midland Main Line electrification project has begun as the first drills have broken ground along the route between London and Wigston.
Network Rail engineers are attempting to drive steel columns seven metres deep into the ground, laying foundations for the overhead line equipment needed to power electric and bi-mode trains in the future.
These works come as part of the multi-million-pound programme to support the Government's ambitions to decarbonise the public transport sector, creating a greener and more reliable railway that will connect passengers between London and Sheffield, via Nottingham and Derby.
Following previous route upgrades between Corby and Bradford, this next phase of works will see the 12-mile section between Market Harborough and Wigston brought up to standards required to connect the entire route.
This piling programme is scheduled to run until August 2023, readying the line for the eventual electric wiring installations that will carry through the same year. Most of the works will be conducted overnight as to ensure there are no disruptions to running trains whilst optimising safety standards within the project.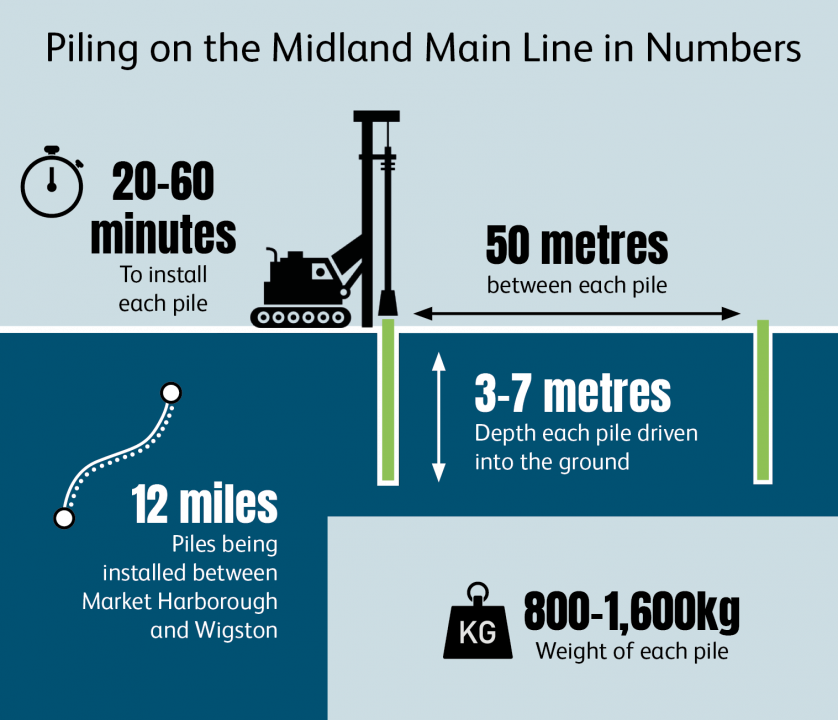 Gavin Crook, Principal Programme Sponsor for Network Rail, said:
"Starting this next phase of work is a huge step forward for the Midland Main Line Upgrade. It adds to the important work we've already completed to transform journeys between London and Corby and sees us work towards a fully electrified route.
"We're excited to offer passengers a more reliable, greener railway which is fit for the future, encourages more people to travel by train, and supports economic growth along the way."
The electrification of British rail is integral to creating Net-Zero within the sector, adhering to the Governments ambitions to decarbonise public transport. Rail electrification also produces faster journey times which allows operators to maximise line capacity whilst improving the passenger experiences throughout their network.
Want to know more about the opportunities to become a key supplier to the UK rail industry? Attend TransCityRail and access an exclusive marketplace of buyers from Network Rail, HS2, Train Operators, Major Contractors, and all other tiers of the supply chain. For more information and to secure your place click here.