Network Rail is to replace nine sets of 40-year-old points either side of Stowmarket station during the early autumn. The work will take place over six weekends from September to November.
The points near the station are no longer fit for purpose, with the wooden sleepers under the points also being replaced with modern, concrete sleepers. They will also be equipped with state-of-the-art technology that will reduce the likelihood of faults and it is hoped they will last up to 50 years.
The work is essential to maintain the safe and reliable running of the railway in this part of the country. Stowmarket is a critical junction, and any faults with the points could cause widespread disruption.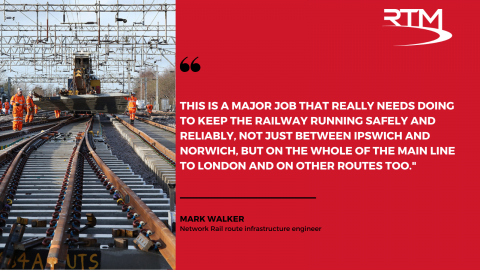 The line between Ipswich and Norwich has several high-speed sections which can cause stresses and vibrations on the points. This upgrade is particularly important to Stowmarket as the station is where Network Rail store many of its specialist trains which blast fallen leaves off the tracks in the autumn.
In addition to replacing the points, Network Rail will also be carrying out other improvements at the same time, including replacing worn-out rails at Needham Market.
Mark Walker, Network Rail Anglia route infrastructure engineer, said: "This is a major job that really needs doing to keep the railway running safely and reliably. We're sorry for the disruption this will cause to passengers but it's really important we swap these 40-year-old points for up-to-date equipment."
Network Rail also confirmed it will be replacing old rails near Needham Market during the same period. They also confirmed that they will be carrying out further engineering work as they continue work on building the Beaulieu Park rail station near Chelmsford – The station is part of a wider infrastructure development in the area.
Jamie Burles, Greater Anglia managing director, said: "This work is extremely important to help maintain the safe and reliable running of the railway – we would like to thank customers for their patience and understanding while it is carried out."
Photo Credit: Network Rail
Want to know more about the opportunities to become a key supplier to the UK rail industry? Attend TransCityRail and access an exclusive marketplace of buyers from Network Rail, HS2, Train Operators, Major Contractors, and all other tiers of the supply chain. For more information and to secure your place click here.