The Department for Transport (DfT) has awarded Avanti West Coast a long-term contract, which will enable them to deliver improved services for passengers after dramatically reducing cancellations to as low as 1.1% over the past year.
The DfT has signed off on a long-term contract which could last for nine years will allow the operator to plan ahead and prepare advance timetabling. The new contract also allows Avanti West Coast to start thinking about new train fleets and service improvements, which under the previous agreement wasn't available.
The news of the new contract follows on from two consecutive short term six month contracts which DfT had placed them under following poor performance, ordering the company to develop a recovery plan.
Since then, Avanti West Coast has addressed issues with its reliance on rest day working which had significantly disrupted its timetables. The company also introduced a recovery timetable and new ways of enabling tickets becoming available earlier.
The recovery timetable was a success, with services increasing from 180 trains per day to 264 on weekdays.
By the end of the first 6-month contract in March, Avanti had already made significant progress towards its recovery, with 40% more services being run and cancellations within Avanti's control falling to 4.2%.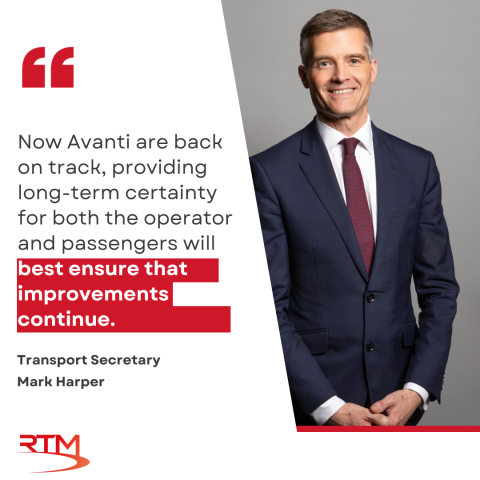 Avanti, under the second six-month contract worked further on improvements including keeping cancellations under 3% since March 2023 and training 100 additional drivers which has been a key component of the timetabling successes during the period.
Transport secretary Mark Harper said:  "The routes Avanti West Coast operate provide vital connections, and passengers must feel confident that they can rely on the services to get them where they need to be at the right time.
"Over the past year, short-term contracts were necessary to rebuild the timetable and reduce cancellations. Now Avanti are back on track, providing long-term certainty for both the operator and passengers will best ensure that improvements continue.
"As well as working directly with the operator and local stakeholders on the recovery plan over the past year, the government continues to support the industry – including through setting a mandate – as it engages with unions to ensure we can take forward much-needed reform, including introducing a reliable 7 day a week service to secure the future of our railways.
"The transformation of Avanti's performance over the past year demonstrates how, through working closely with government, setting out clear set goals and being incentivised to succeed, the private sector can deliver on our railways."
Starting on 15 October 2023, Avanti West Coast's new National Rail Contract will have a core term of three years and a maximum possible term of nine years. After three years, the transport secretary can terminate the contract at any point with three months' notice.
Commenting on the announcement, Avanti West Coast managing director Andy Mellors said: "The National Rail Contract for the West Coast Partnership announced today provides stability for customers and colleagues as we continue to rebuild trust as well as confidence.
"Over the last six months, we have delivered significant and sustained improvements in operational performance and customer satisfaction. Cancellations that Avanti West Coast is responsible for have stabilised at below two percent of scheduled services. The last year has been challenging but I would like to thank our customers as well as stakeholders for their patience.
"There are still challenges ahead but plenty to look forward to on our network including customer benefits such as the continued award-winning refurbishment of our Pendolinos and the introduction of our new Hitachi fleet, which will increase capacity and further improve our sustainability credentials."
Photo Credit: Department for Transport/iStock