HS2's 125-metre-long tunnel boring machine 'Dorothy' has commenced her second, mile long voyage under Long Itchington Wood in Warwickshire, representing a major milestone in the development of construction for the northern section in Phase One.
Having launched in December 2021, the Balfour Beatty VINCI (BBV) tunnelling team worked tirelessly for seven months to complete the first tunnel drive in July 2022.
HS2's Senior Project Manager for Long Itchington Wood Tunnel, Doug Barnett:
"After celebrating HS2's first historic tunnel breakthrough in July, this TBM reassembly and relaunch is another first for the HS2 project. One year after Dorothy launched for her first drive, she's now set off for the second bore, and we look forward to seeing the next HS2 tunnel breakthrough in summer 2023."
In the recent four-month span since the breakthrough, this tunnel boring machine (TBM) was transported to be reused, representing a first for the HS2 project as four other TBM's are currently in the ground, digging twin bore tunnels under the Chilterns and London.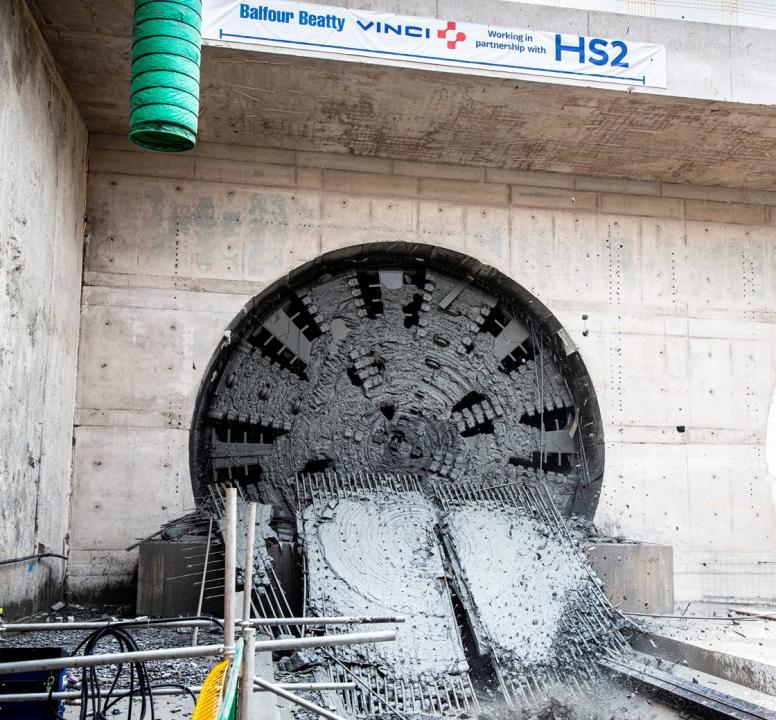 Transportation of such a massive piece of machinery required a disassembly process which saw the 1,000 tonne gantries of TBM brought through the tunnel for reassembly at the north portal. The 160 tonnes cutterhead was then moved via road during an intricate night operation in September with the 130-tonne tail skin and eight other large pieces from the TBM's front shield and middle shield being transported with specialist equipment.
Neil Johnson, Tunnels Delivery Director for Balfour Beatty VINCI said:
"This has been an intense four months for the 300-strong team, including an intricate logistical operation to safely transport the TBM's giant cutterhead and tail skin back to the north portal. This is another fantastic milestone for BBV and a proud moment for our fantastic tunnelling team."
The tunnel under Long Itchington Wood will act to preserve the rich woodland above, protecting the complex ecosystem which has been classified as a 'Site of Special Interest.' Throughout the HS2 project, a key operating practise has been to protect wildlife and integrate the ecology of surrounding areas into the design process.
In keeping with the ambition to preserve local environments and decarbonising construction methods throughout the project's expansion, the 500,000 tonnes of mudstone and soil produced on site will be excavated by a 254-metre conveyer. These materials will then be used to create embankments along the route of the railway, ensuring there is little to no wastage within the process.
Want to know more about the opportunities to become a key supplier to the UK rail industry? Attend TransCityRail and access an exclusive marketplace of buyers from Network Rail, HS2, Train Operators, Major Contractors, and all other tiers of the supply chain. For more information and to secure your place click here.